Katrina: A History, 1915-2015 (Paperback)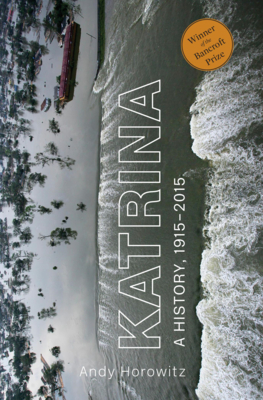 Description
---
Winner of the Bancroft Prize
Louisiana Endowment for the Humanities Book of the Year
A Publishers Weekly Book of the Year
"The main thrust of Horowitz's account is to make us understand Katrina--the civic calamity, not the storm itself--as a consequence of decades of bad decisions by humans, not an unanticipated caprice of nature."
--Nicholas Lemann,
New Yorker
Hurricane Katrina made landfall in New Orleans on August 29, 2005, but the decisions that caused the disaster can be traced back nearly a century. After the city weathered a major hurricane in 1915, its Sewerage and Water Board believed that developers could safely build housing near the Mississippi, on lowlands that relied on significant government subsidies to stay dry. When the flawed levee system failed, these were the neighborhoods that were devastated. The flood line tells one important story about Katrina, but it is not the only story that matters. Andy Horowitz investigates the response to the flood, when policymakers made it easier for white New Orleanians to return home than for African Americans. He explores how the profits and liabilities created by Louisiana's oil industry have been distributed unevenly, prompting dreams of abundance and a catastrophic land loss crisis that continues today. "Masterful...Disasters have the power to reveal who we are, what we value, what we're willing--and unwilling--to protect."
--
New York Review of Books
"If you want to read only one book to better understand why people in positions of power in government and industry do so little to address climate change, even with wildfires burning and ice caps melting and extinctions becoming a daily occurrence, this is the one."
--
Los Angeles Review of Books