From the Bronx to the Bayou: A Defense Attorney's Odyssey, from Charles Evers to Edwin Edwards and Beyond (Hardcover)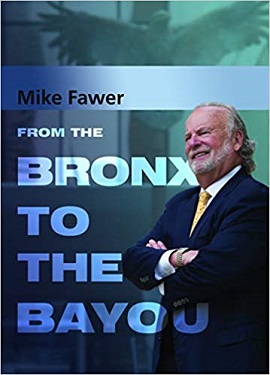 Description
---
Over nearly six decades, trial attorney Mike Fawer's prolific career as trial attorney led him to defend a charismatic Louisiana governor, a pioneering Mississippi mayor, and a wrongfully convicted man who spent more than a decade on death row, among many others. In his defense of those clients — Edwin Edwards, Charles Evers, and Curtis Kyles and all the others — Fawer was well known as an aggressive advocate who tangled with prosecutors and judges alike. Fawer's skilled and enthusiastic cross-examinations disarmed opponents and persuaded jurors.

But behind his courtroom bravado Fawer's intense trial preparation — including his famously attentive approach to jury selection — culminated, inevitably, with his ability to humanize his clients through believable defense narratives. His impressive acumen in the courtroom was bookended in each of his biggest trials with opening and closing arguments — handwritten, as was Fawer's custom — that captivated news media, the public and most importantly, members of the jury.

In his memoir, From the Bronx to the Bayou, Fawer gives readers a behind-the-scenes look at his wins, losses, and acrimonious relationships with judges that have fascinated colleagues and opponents for years. Meet characters from Fawer's criminal-defense career including a murderer who danced on his mother's grave, a detective who wrote crime novels sprinkled with all-too-familiar police antics, a well-known businessman charged with his wife's murder, and a doctor accused of injecting his mistress with HIV. Beyond work, Fawer offers tales of his sometimes-contentious family life and his side ventures as a boxing and Broadway- show promoter.

Fawer's story goes beyond legal yarns at a time when the criminal justice system is being called to account for over-incarceration and institutional discrimination. Fawer's unapologetic challenges to overzealous prosecutors and arrogant judges proves time and again that injustice is best combatted with a fierce defense of the accused.
About the Author
---
Born in 1936, Mike Fawer was raised in the Bronx. He attended Cornell University and graduated from Columbia Law School in 1960. Then, Fawer was hired by the U.S. Department of Justice, where he worked to prosecute organized crime leaders under Bobby Kennedy before joining the vaunted U.S. District Attorney's Office for the Southern District of New York headed by Bob Morgenthau. Fawer worked as a defense attorney for five decades and successfully served clients that included Louisiana's top elected officials, innocent death-row inmates, millionaires blamed for the savings and loan crisis, accused murderers and tax evaders, and prescription drug-pushers. Since 1971 he has lived in New Orleans, near his four grown children and four grandchildren.
Praise For…
---
Many retiring attorneys pen tomes about their careers, but few do it with the honesty, passion and flair of Mike Fawer. He weaves a colorful tapestry of underworld characters, crooked politicians, murderers and pompous jurists into his professional life story — with delightful detours into tales of duck hunting, horse racing, failed romances and hard-learned lessons in and out of court. Lawyer and non-lawyer alike will find reason to like this book.
CLANCY DUBOS Political analyst, WWL-TV; columnist, Gambit, New Orleans.

Watching Mike Fawer in court was a journalist's dream. Brilliant, brash and witty, he thrilled to his task, maneuvering like a fencer with a foil. This book is a rocking good primer on the practice of criminal law.
JASON BERRY Investigative reporter, author and film director.

Had Portia been bred with a pit bull, Mike Fawer could have been their whelp. He came down out of the Bronx as a young lawyer, hellbent to save the Deep South from itself-and never left. There's a whole handbook of trade secrets in here from the courtroom wizard who defended some of Louisiana and Mississippi's highest-profile corruption and homicide cases. And along with the law there are life lessons, making this a memoir for non-lawyers, too.
JED HORNE Author, Breach of Faith, Desire Street, former city editor The Times-Picayune

Cross-examining some hapless prosecution witness, Mike Fawer goes for the jugular, and has crossed swords with several judges too. He has had a long career as one of Louisiana's foremost criminal defense attorneys, because he is smart, always well prepared and fearless. The same qualities are evident in this book. He pulls no punches while readers get the inside dope on some of the most sensational cases of the last few decades. Here, and in wide selection of his successes and failures, Fawer gives us a fascinating look at the inner workings of our criminal justice system.
JAMES GILL Author, Lords of Misrule: Mardi Gras and the Politics of Race in New Orleans; columnist, New Orleans Advocate and The Times Picayune.