Vacationland: True Stories from Painful Beaches (Hardcover)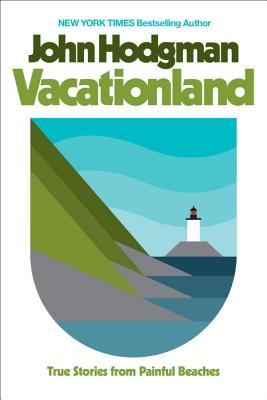 $25.00
Email or call for price
Description
---
"I love everything about this hilarious book except the font size." —Jon Stewart

Although his career as a bestselling author and on The Daily Show With Jon Stewart was founded on fake news and invented facts, in 2016 that routine didn't seem as funny to John Hodgman anymore. Everyone is doing it now. 
 
Disarmed of falsehood, he was left only with the awful truth: John Hodgman is an older white male monster with bad facial hair, wandering like a privileged Sasquatch through three wildernesses: the hills of Western Massachusetts where he spent much of his youth; the painful beaches of Maine that want to kill him (and some day will); and the metaphoric haunted forest of middle age that connects them.
 
Vacationland collects these real life wanderings, and through them you learn of the horror of freshwater clams, the evolutionary purpose of the mustache, and which animals to keep as pets and which to kill with traps and poison. There is also some advice on how to react when the people of coastal Maine try to sacrifice you to their strange god.
 
Though wildly, Hodgmaniacally funny as usual, it is also a poignant and sincere account of one human facing his forties, those years when men in particular must stop pretending to be the children of bright potential they were and settle into the failing bodies of the wiser, weird dads that they are.
About the Author
---
John Hodgman is a writer, comedian, and actor. He is the author of three New York Times bestselling books—The Areas of My Expertise, More Information Than You Require, and That Is All. After an appearance to promote his books on The Daily Show, he was invited to return as a contributor, serving as the show's "Resident Expert" and "Deranged Millionaire." This led to an unexpected and, frankly, implausible career in front of the camera. He has performed comedy for the president of the United States, at a TED conference, and in a crypt in Green-Wood Cemetery in Brooklyn, New York. He is the host of the popular Judge John Hodgman podcast, in which he settles serious disputes between real people, such as "Is a hot dog a sandwich?" He also contributes a weekly column under the same name for The New York Times Magazine.
Praise For…
---
Winner of the New England Book Award
Finalist for the Thurber Prize for American Humor

"I love everything about this hilarious book except the font size . . . can a fella get a 16 point Helvetica up in this thing."
—Jon Stewart

"Subtle and profound . . . A strange and very funny book—one that makes comedy out of the anxieties and indignities of middle age."
—The Atlantic

"Achingly funny . . . Sharp, silly, and sensitive, Vacationland is a literary selfie of a concerned citizen storyteller—one in which the oldest slice of the United States does a little inelegant photobombing."
—NPR

"Very funny . . . Setting it down, you're left with the sense that you've just finished a long, pleasant trip into the author's mind. As far as travel destinations go, it's a welcome one, a warm harbor against cold winds."
—The AV Club

"Laugh-out-loud funny."
—Buzzfeed

"An ambitious departure from Hodgman's previous authorial endeavors. It's funny, but it's no joke. The book is a cleverly composed meditation on one privileged American's life—and, glancingly, on America—at a crucial moment for both."
—Chicago Tribune

"Wholly profound . . . Deeply poignant . . . Vacationland presents a world worth sinking into."
—Entertainment Weekly

"Reading the book is a particular pleasure . . . Hodgman has a gift for capturing the modes and mores of New England in a way that is wry and true."
—Los Angeles Times

"Brilliant . . . the funniest book we've read since David Sedaris's Theft by Finding: Diaries. You're gonna love it." 
—Hello Giggles

"Equal parts funny and sincere . . . A thoughtful and insightful glimpse inside the mind of one of the funniest writers today."
—Bustle

"It's just as funny as his previous books; it's better than all of them."
—Portland Mercury

"A treasure . . . [Vacationland] isn't just funny . . . it's also sneaky as hell."
—Boing Boing

"Outside of these pages, you will not find a more tender irony, a gentler wickedness, a more perfect tone, a regard more unflinching and forgiving. At some point, long after I gave up resisting the near-constant impulse to laugh out loud, I came to the realization that with Vacationland, Hodgman has established himself as a memoirist and, unquestionably, a master prose stylist, of rare power and restraint."
—Michael Chabon

"'West of Arkham the hills rise wild, and there are valleys with deep woods that no axe has ever cut. There are dark narrow glens where the trees slope fantastically, and where thin brooklets trickle without ever having caught the glint of sunlight,' H.P. Lovecraft wrote. He was talking about western Massachusetts. And we all know about Maine, thanks to Stephen King. Rabid dogs, vampires, space aliens, sh*t weasels, and worse things, all hanging around that Castle Rock place. These are terrifying places, awful places, where strange screams echo though the night and the people eat giant aquatic insects they call lobsters. You don't want to go near them.
 
Fortunately John Hodgman has gone there so you don't have to, and he has seen it all. Beaches with rocks sharp as knives, sinister cairns, waters cold enough to stop your heart, raccoon feces . . . oh, the tales he tells! It's all there in Vacationland! Lovecraft warned us, King warned us, and now comes Hodgman with the terrible truth. Oh, the horror, the horror . . . "
—George R. R. Martin

"This book is genuinely it-will-make-you-laugh funny, it is a wistful and sad examination of the impulse that causes us to move to out of the way places and of what John Hodgman found when he went there, and it is always wiser than it seems. If you do not read it, you will be missing out on something special."
—Neil Gaiman

"John Hodgman is a literary wizard, an imaginative humorist, and a true man of mystery. Everything he writes is an adventure. Vacationland just happens to be his most fabulous work to date."
—Jonathan Scott, co-host of HGTV's "Property Brothers"

"I am delighted that Vacationland exists, because it will finally prove something to the world that I have known for years: John Hodgman is a seriously great writer. It's easy to miss this point about John, as his literary talents are often overshadowed by his well-known and much-loved sense of humor. But this is a man whose mind and heart have always been devoted to the craft of writing. These essays demonstrate his rare gift in a volume that is rich with sensitivity, subtlety, grace, and—yes, of course— wit. I absolutely love it."
—Elizabeth Gilbert 

"Dazzling . . . Genuine laughs on every page, what a joy!"
—Maria Semple

"Now I know why John Hodgman was always making up so many facts—the truth of his life is so painful and hilarious. Who can blame him? Get nice and pre-cringed and dive into Vacationland."
—Patton Oswalt
 
"This here yarn has everything you want—laughs, love, death, and the obligatory legume-shaped boat. Hodgman's wide-eyed sense of place is as irresistible as his playful yet unflinching sense of self."  
—Sarah Vowell, bestselling author of Lafayette in the Somewhat United States
 
"I love this book. I love it unreservedly. . . . It's the sort of book I get preemptively defensive about: 'Show me the guy who doesn't like this book,' my inner monologue runs. 'Show him to me, that I may mock him for his lousy sense of humor and his inability to know good prose when he sees it.'"
—John Darnielle, bestselling author of Universal Harvester and primary member of the Mountain Goats
  
"John Hodgman thinks we're rubes, trying to convince us he's some unlovable fraud or a post-post Dick Cavett. But his wondrous Vacationland proves the truth: he is a man from the future sent here to save us with comedic metaphors, relishable scoldings, and neoclassic wit."
—Brad Meltzer, bestselling author of The Escape Artist
 
"We've known for a while now that John Hodgman is a master of invention. It is completely unsurprising—and an absolute joy—to find he is every bit as funny and brilliant when confronting the truth of his own life. Moving, hilarious, and deeply heartfelt, Vacationland is a wonder."
—Cynthia D'Aprix Sweeney, bestselling author of The Nest

"John Hodgman returns to the page with a humorous, yet sincere look at his time spent on the beaches of Maine and his trek through middle age. . . . With a dry wit and ample amounts of self-depreciation, Hodgman offers a humorous take on adulthood and the harsh, unforgiving beaches of eastern Maine."
—Charleston City Paper
 
"Hodgman's new book—a memoir about fatherhood, aging, travel, and his home state of Massachusetts—is the most (maybe the first) unironic thing in his career."
—The Millions

"Hodgman is a disarmingly witty storyteller, at once waggish and incisive, droll and tender. Indeed, deep feelings flow beneath the mirth."
—Booklist

"Readers will be laughing out loud."
—Library Journal
Coverage from NPR