Bobby Orr and the Hand-me-down Skates (Hardcover)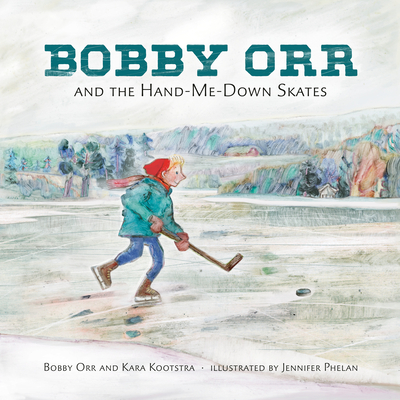 $17.99
Email or call for price
Description
---
Even hockey legends start with hand-me-downs. A beautifully illustrated true childhood story about hockey great Bobby Orr.

Bobby eats, sleeps and breathes hockey. So when his birthday is coming up, he only wants one thing: new skates. He's seen the exact pair he wants in the shop window: sparkling blades, shiny leather, clean new laces tied in perfect bows. But when Bobby opens his gift, he's dismayed to find hand-me-down skates: scuffed leather, nicked blades, floppy laces.

Once Bobby breaks them in, though, he and the hand-me-down skates become inseparable, and he can't imagine life without them . . . until the brand-new skates come into his life. How can he leave his hand-me-down skates behind?

Log Driver's Waltz illustrator Jennifer Phelan brings this classic story to life with timeless, gorgeous art, and Kara Kootsra's words evoke the joy and dedication that Bobby Orr brought to his favorite sport. A perfect gift for readers and fans big and small, this book is destined to be a classic that is reached for time and time again.
About the Author
---
KARA KOOTSTRA is a writer and classically trained singer and pianist. Her first book, The Boy in Number Four, was also about hockey legend Bobby Orr, and her second book, Jay Versus the Saxophone of Doom, is a middle grade reader also about hockey. Residing in her home town of Windsor, Ontario, Kara enjoys spending time with her husband Kyle and two children, Nate and Claire.

BOBBY ORR, born in Parry Sound, Ontario, in 1948, played for the Boston Bruins from 1966 through 1976, and helped lead the Bruins to the Stanley Cup championship in 1970 and 1972, and to the finals in 1974. He also played two years for the Chicago Blackhawks. He is widely regarded as one of the greatest hockey players--maybe the greatest hockey player--of all time. After his retirement in 1978, Orr was active with business and charitable works, and in 1996, Orr entered the player agent business, and today is president of the Orr Hockey Group agency. He has been awarded the Order of Canada and the Queen Elizabeth II Diamond Jubilee Medal. The Bobby Orr Hall of Fame is in Parry Sound, Ontario.

JENNIFER PHELAN is fulfilling her childhood dream of drawing pictures all day with the publication of her books, Hey, Boy and The Log Driver's Waltz. Other childhood dreams include becoming Leonardo da Vinci, an archaeologist, and a dancer. Jennifer lives in Toronto with her artist husband, Gleb.
Praise For…
---
"The images for this story are marvelously engaging . . . An excellent contribution to Canada's current hockey collection of illustrated hockey stories. Highly recommended." --CM Magazine

"The ultimate message of the book is, well, perfect. It really is just perfection, without being schmaltzy . . . a wonderful piece of writing and storytelling for kids (and the whiny adult in your family, thanks, I have my copy now)." --Pro Hockey News

"[T]he young hockey player in your life will surely love Bobby Orr and the Hand-Me-Down Skates by Tecumseh native Kara Kootstra and NHL legend Bobby Orr." --The Drive