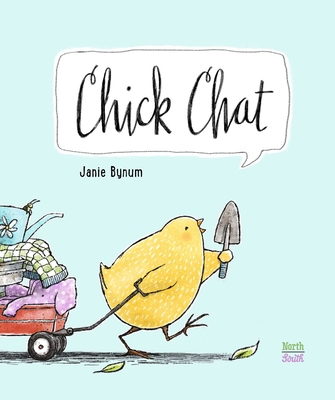 $17.95

Not in stock. Usually arrives in 2-5 Days
Description
---
Friendship comes in all shapes and sizes.

Peep, peep, peep! Baby Chick has a lot to say!

Everyone in Chick's family is too busy to chat with her. But when chatty baby Chick adopts a large egg—she finally finds a friend who is a good listener. When her egg goes missing, Chick is heartbroken, until she finds that it has hatched into a brand-new friend!
About the Author
---
Janie Bynum grew up Texas and graduated with a BFA in graphic design with an emphasis on illustration. As an author/illustrator, she has created many lovable characters and stories for younger children. Her work has been recognized as a Junior Library Guild Selection. She loves to travel and experience other cultures, drawing inspiration from the people, landscape, and cuisine. Known to her friends as a bit of a nomad, Janie lives in a nearly-100-year-old storybook house in southwest Michigan for now. Visit janiebynum.com for more information.
Praise For…
---
"Baby Chick is surrounded by clouds of printed Peep!s throughout the story; these are full of movement indicating unabashed joy. Saturated, summery colors and black-outlined figures lend vibrancy to the story. The text is further enhanced by well-placed, but not overdone, chicken-related puns: Sister is reading A Coop of One's Own, and when she takes Baby Chick to bed, she suggests "Let's hit the hay, Baby Chick.

A sweet story told with gentle humor."


— Kirkus Reviews



Dynamic digital illustrations in pastel tones detail Baby Chick's search for someone to listen and celebrate a joyful quest. Readers will delight in the full-page spreads with simple detailed backgrounds, and will enjoy following the antics of a stuffed elephant toy from page to page.



— School Library Journal

"Cheerful watercolor illustrations are filled with the round chick's ceaseless peeping and obvious joie de vivre. By tale's end, Baby Chick's family appears to be quite pleased that the exuberant bird has someone who loves listening to her chitchat."


— Booklist

"This colorful illustrated story is enhanced by baby Chick's constant peeping—over 100 of them."
— Charles Sutton

"It is not just the expressive Chick but the placement of the Peeps that charms this story."
— Youth Services Book Review