Modern Magick: Twelve Lessons in the High Magickal Arts (Paperback)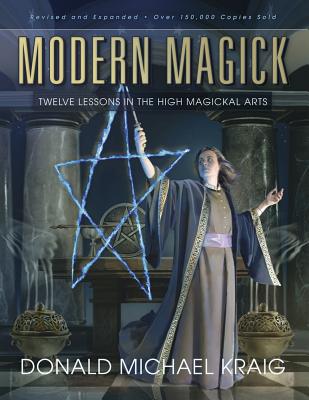 $34.99
Not in stock. Usually arrives in 2-5 Days
Description
---
For over two decades, Donald Michael Kraig's Modern Magick has been the world's most popular step-by-step guide to working real magick. Tens of thousands of individuals and groups have used this course as their primary instruction manual. Now, greatly revised and expanded, this set of lessons is more complete and relevant to your life than ever.
Written with respect for the student, Modern Magick will safely guide you--even if you know little or nothing--through a progressive series of practical exercises and rituals, complemented by the knowledge, history, insights, and theory you need to become a successful ceremonial magician. Firmly rooted in the Western magickal tradition yet designed to be fully compatible with your contemporary practice, this book will help you attain full mastery of all core topics in magick:
The inner mysteries of the Kabalah
The most powerful rituals of magick
How to create and perform your own rituals
True meditation
Magickal ethics
Astral projection
Tools of magick
Evocation of spirits
Pathworking
Tantra and sex magick
The importance of the Tarot
Talismans and amulets
Secrets of visualization
Alchemy
Psychic self-defense
Healing rituals
Filled with personal stories and helpful illustrations, along with updated and brand-new material, this new edition of Modern Magick features a completely new lesson that reveals the concepts, techniques, and rituals of Neuro-Linguistic Programming, Chaos Magick, and Postmodern Magick. Ideal for beginning, intermediate, or advanced students, and perfect as a manual for magickal temples, this is essential reading for every true magician.
Praise:
"Modern Magick is a modern-day classic. It has become the standard textbook of practical magickal knowledge for magicians all over the world. We highly recommend it to beginner and adept alike."--Chic Cicero and Sandra Tabatha Cicero, authors of Experiencing the Kabbalah and Self-Initiation into the Golden Dawn Tradition
About the Author
---
Donald Michael Kraig graduated from UCLA with a degree in philosophy. He also studied public speaking and music (traditional and experimental) on the university level. After a decade of personal study and practice, he began ten years of teaching courses in the Southern California area on such topics as Kabalah, Tarot, Magic, Tantra, and Psychic Development. He was a member of many spiritual and magical groups and was an initiated Tantric.