Retire Downtown: The Lifestyle Destination for Active Retirees and Empty Nesters (Paperback)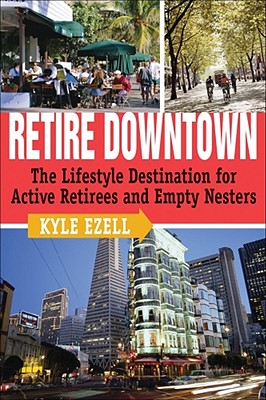 $18.95
Email or call for price
Description
---
Are you a Ruppie? More and more people are trending toward living downtown. Author Kyle Ezell demonstrates how empty nesters can live out their golden years full of fun and independence in the midst of the city.

Ruppies--Retired Urban People--are cropping up all over the country. The populations of city downtowns are exploding nationwide. Also known as active retirees, Ruppies are quickly becoming a big part of that population. Downtown living can help them stay active both physically and mentally while keeping them entertained in the process. After all, there's always a live theater or jazz band playing right around the corner. Author and noted city planner Kyle Ezell has assembled information on living downtown, shopping, eating at exciting new restaurants, getting around, staying active, downsizing to one car, volunteering, keeping faith alive, and much, much more into Retire Downtown.

Retire Downtown lists the top 20 cities for Ruppies across the nation, with a wealth of facts on each area and a breakdown of each environment.

Learning how to locate the right downtown neighborhood in which to live, and discovering art galleries, cool hangouts, coffee shops, and farmers' markets, as well as the unique and trendy ethnic shops, are all exciting parts of Ezell's book--a must-have for every up-and-coming active retiree!
About the Author
---
 Kyle Ezell is the founder of Get Urban America, a Columbus, Ohio-based urban planning firm dedicated to teaching the urban lifestyle to Americans, a predominantly suburban culture. Kyle is a trained cultural geographer and a nationally known certified city planner, and teaches downtown housing courses for the Ohio State University's City and Regional Planning Program. Numerous newspaper and television media have interviewed Kyle as an expert on revitalizing cities, and he is the author of Get Urban! The Complete Guide to City Living (Capital Books, 2004). He lives in Columbus, Ohio. For more information, go to www.geturban.com and www.retiredowntown.com.