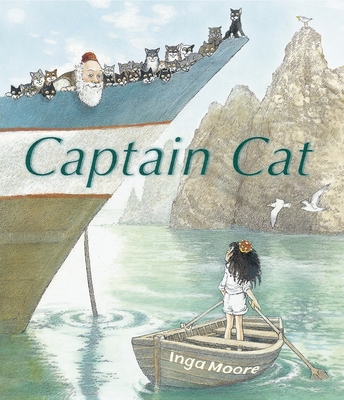 $18.71

Not in stock. Usually arrives in 2-5 Days
Description
---
A trader who loves cats discovers an island plagued by rats in Inga Moore's lavishly illustrated tale about the value of treasure and the nature of home.

Captain Cat loves cats. In fact, he has more cats on his ship than he has sailors. On one voyage, he discovers a remote and lonely island where the little-girl Queen has never even seen a cat. When Captain Cat's furry companions trounce the rats infesting the island, the Queen begs Captain Cat to trade her the cats for untold treasure. Does he? Could he? What happens next? Never fear, fellow travelers! The purr-fect solution is on the horizon — and is sure to satisfy both pet-lovers and adventurers.
About the Author
---
Inga Moore is a distinguished author and illustrator of children's books whose illustrated titles include acclaimed versions of The Secret Garden and The Wind in the Willows. She lives in England.
Praise For…
---
Moore's detailed crosshatched pictures — in a style familiar from her illustrations for "The Wind in the Willows" and "The Secret Garden" — add charm to this warmhearted story.
—The New York Times Book Review

[T]his is an adventure readers will savor.
—Publishers Weekly (starred review)

This quirky tale has something for everyone... Moore's tale combines traditional themes and spritely illustrations to create a satisfying, offbeat adventure.
—Kirkus Reviews

The illustrations are intricate, with many faces and details to examine, and the realistic, Mediterranean-looking backgrounds create a beautiful setting for the story. The characters, whether human or feline, have distinct expressions and looks, with a few animals peering out, connecting with readers.
—School Library Journal

The story is well told, and the pictures add their own brand of charm... This pleasing picture book features an idyllic, original adventure story, told with wit and illustrated with grace.
—Booklist

Moore excels at visually creating idyllic worlds, and this title is no exception. ... The story finds its inspiration in an old Italian tale (according to flap copy), and its folkloric style and the pleasantly conversational tone make the book an easy readaloud. This would be a cozy classroom readaloud selection or a comfy bedtime story; having a couple of kitties on hand would, of course, enrich the experience.
—Bulletin of the Center for Children's Books

Moore has created a new classic! This story has everything—a captain, a queen, the high seas, unknown territory, murder, mystery, romance, treasure and CATS! Moore's trademark illustrations pull you in and make you want to read it again and again.
—Isabel Berg, Gibson's Bookstore, Concord, N.H.

There's more to this curious tale, which delights in its unexpected twists. Just when you suspect one thing will happen, Moore surprises you with another, even throwing in a bit of chummy commentary, spoken directly to the reader. ... Moore's sprawling mixed media spreads create a vivid, detailed world, and the quirky story charms. Dare I say: It's the cat's pajamas.
—BookPage Online

[A] perfectly wonderful adventure tale... Big, luscious spreads of high-energy watercolor illustrations are packed with eye-pleasing details (and comedic cats, of course).
—The Sunday Plain Dealer

A wonderfully illustrated journey for readers.
—San Antonio Express-News