Sisterhood of Dune: Book One of the Schools of Dune Trilogy (Mass Market)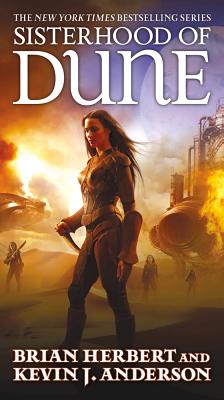 $9.99
Not in stock. Usually arrives in 2-5 Days
Other Books in Series
This is book number 8 in the Dune series.
Description
---
It is eighty-three years after the last of the thinking machines were destroyed in the Battle of Corrin, after Faykan Butler took the name of Corrino and established himself as the first Emperor of a new Imperium. Great changes are brewing that will shape and twist all of humankind.

The war hero Vorian Atreides has turned his back on politics and Salusa Secundus. The descendants of Abulurd Harkonnen Griffen and Valya have sworn vengeance against Vor, blaming him for the downfall of their fortunes. Raquella Berto-Anirul has formed the Bene Gesserit School on the jungle planet Rossak as the first Reverend Mother. The descendants of Aurelius Venport and Norma Cenva have built Venport Holdings, using mutated, spice-saturated Navigators who fly precursors of Heighliners. Gilbertus Albans, the ward of the hated Erasmus, is teaching humans to become Mentats…and hiding an unbelievable secret.

The Butlerian movement, rabidly opposed to all forms of "dangerous technology," is led by Manford Torondo and his devoted Swordmaster, Anari Idaho. And it is this group, so many decades after the defeat of the thinking machines, which begins to sweep across the known universe in mobs, millions strong, destroying everything in its path.

Every one of these characters, and all of these groups, will become enmeshed in the contest between Reason and Faith. All of them will be forced to choose sides in the inevitable crusade that could destroy humankind forever….
About the Author
---
BRIAN HERBERT, the son of Frank Herbert, is the author of multiple New York Times bestsellers. In 2003, he published Dreamer of Dune, a moving biography of his father that was nominated for the Hugo Award. His other novels include Man of Two Worlds (written with Frank Herbert), Sudanna Sudanna, and The Little Green Book of Chairman Rahma.

KEVIN J. ANDERSON has written dozens of national bestsellers and has been nominated for the Hugo Award, the Nebula Award, the Bram Stoker Award, and the SFX Readers' Choice Award. His critically acclaimed original novels include the ambitious space opera series The Saga of Seven Suns, including The Dark Between the Stars, as well as the Terra Incognita fantasy epic with its two accompanying rock CDs. He also set the Guinness-certified world record for the largest single-author book signing.
Praise For…
---
"With their useful fidelity to the vision of the late Frank Herbert, coauthors Herbert (Frank's son) and Anderson (The Winds of Dune) continue to illuminate heretofore hidden areas of the Dune time line. Fully realized characters and intricate plotting will put this title high on fans' to-read list." —Library Journal Starred review

"Characters and plot are thus beautifully set up, the timing is precise….the universe conceived by Frank Herbert is so vast, complex and fascinating that the magic lingers." —Kirkus Reviews

"[A] fun blend of space opera and dynastic soap opera…The narrative is broken into short, jazzy chapters studded with familiar names like Atreides, Harkonnen, and Arrakis that will grab the attention of longtime Dune fans." —Publishers Weekly on Sisterhood of Dune

"Delivers solid action and will certainly satisfy." —Booklist on The Winds of Dune

"Fans of the original Dune series will love seeing familiar characters, and the narrative voice smoothly evokes the elder Herbert's style." —Publishers Weekly on The Winds of Dune

"This sequel to Paul of Dune is an important addition to the Dune chronology and will be in demand by Herbert fans." —Library Journal, starred review on The Winds of Dune

"Unquestionably, Herbert & Anderson can spin a great yarn; while technically producing a vivid, mystifying universe, filled with characters that are both endearing, and loathsome. I recommend this one highly, but be warned, if this is the first Dune book you are reading, get ready to hit the bookstore, because I promise you, it will not be the last!" —BookSpotCentral on The Winds of Dune

"Drawing on Frank Herbert's massive body of notes, the coauthors of the new Dune series continue their expansion and illumination of the unexplored pieces of one of the genre's most significant and powerful stories. A priority purchase for libraries of all sizes. Highly recommended." —Library Journal, starred review on Paul of Dune

"Dune addicts will happily devour Herbert and Anderson's spicy conclusion to their second prequel trilogy." —Publishers Weekly on Dune: The Battle of Corrin