Dangerous Women 3 (Mass Market)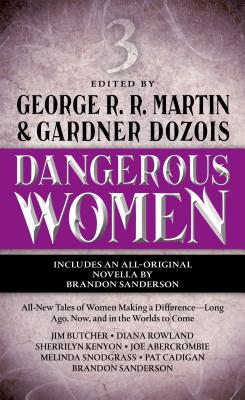 Description
---
Dangerous Women Vol. 3, edited by George R. R. Martin and Gardner Dozois, includes stories by Sherrilyn Kenyon, Joe Abercrombie, Diana Rowland, Melinda Snodgrass, and Pat Cadigan, and features an entirely new 18,000-word novella by New York Times bestselling author Brandon Sanderson, and a new story of Harry Dresden's world by bestselling author Jim Butcher.
About the Author
---
George R. R. Martin has been a full-time writer for over 25 years. He is the author of the acclaimed, internationally bestselling fantasy series A Song of Ice and Fire, which is the basis of HBO's popular Game of Thrones television series. Martin has won multiple science fiction awards, including 4 Hugos, 2 Nebulas, the Bram Stoker, the Locus Award, the World Fantasy Award, the Daedelus, the Balrog, and the Daikon (Japanese Hugo).

Gardner Dozois (1947-2018), one of the most acclaimed editors in science-fiction, won the Hugo Award for Best Editor 15 times. He was the editor of Asimov's Science Fiction Magazine for 20 years. He also served as the editor of The Year's Best Science Fiction anthologies and co-editor of the Warrior anthologies, Songs of the Dying Earth, and many others. As a writer, Dozois twice won the Nebula Award for best short story. He was inducted into the Science Fiction Hall of Fame in 2011 and received the Skylark Award for Lifetime Achievement. He lived in Philadelphia, Pennsylvania.