Canadian Whisky: The Portable Expert (Paperback)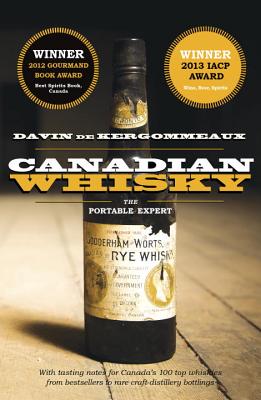 Description
---
In this Gourmand Book Award- and IACP Award-winning book, Davin de Kergommeaux takes readers on a journey through the first systematic presentation of Canadian whisky: how it's made, who makes it, why it tastes the way it does, its history, and the rich, centuries-old folklore surrounding it.
Join whisky authority Davin de Kergommeaux on a pan-Canadian journey from British Columbia to Nova Scotia, celebrating the diversity of Canada's unique spirit. With his conversational and accessible tutelage, de Kergommeaux offers readers a carefully researched, reliable, and authoritative guide to Canadian whisky that is, quite simply, not available anywhere else. Not only a book describing the history and culture of the spirit, Canadian Whisky: The Portable Expert is also an informed exploration of taste. For the first time, whisky consumers -- experts and novices alike -- can approach Canadian whisky with a connoisseur's appreciation of its rich subtleties.
About the Author
---
DAVIN DE KERGOMMEAUX is a certified sommelier and independent whisky expert who has been writing about, talking about, and teaching about whisky for more than a decade. His writing and tasting notes appear in Scotch Whisky Review, Whisky Magazine, and on such websites as maltmaniacs.org, and whiskyintelligence.com. He publishes comprehensive notes about Canadian whiskies on canadianwhisky.org. The Association of Canadian Food Bloggers named de Kergommeaux's website as the best wine and spirits blog of 2010, just six months after it was launched. The author lives in Ottawa.
Praise For…
---
 • "This is an important time for Canadian whisky and this is an important book which isn't just a story of a drink, but a story of Canada itself. It makes you want to get a bottle and a glass, pour yourself a stiff one, sit back and dive in. I'd suggest you do exactly that." --Dave Broom, author of The World Atlas of Whisky
 • "The Canadian whisky industry has done itself no favours in recent years, content to be perceived as capable of only making bland ryes. Davin de Kergommeaux's book isn't just important, it's a game changer, bringing to life an extraordinary and evolving whisky industry. A proud, insightful beauty of a book." --Dominic Roskrow, author of The World's Best Whiskies and 1001 Whiskies to Try Before You Die