Hurricane Katrina: America's Unnatural Disaster (Justice and Social Inquiry) (Hardcover)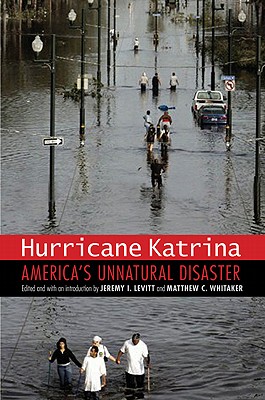 $75.00

Not in stock. Usually arrives in 2-5 Days
Description
---
On August 29, 2005, Hurricane Katrina slammed into the Gulf Coast states of Louisiana and Mississippi. The storm devastated the region and its citizens. But its devastation did not reach across racial and class lines equally. In an original combination of research and advocacy, Hurricane Katrina: America's Unnatural Disaster questions the efficacy of the national and global responses to Katrina's central victims, African Americans.
This collection of polemical essays explores the extent to which African Americans and others were, and are, disproportionately affected by the natural and manmade forces that caused Hurricane Katrina. Such an engaged study of this tragic event forces us to acknowledge that the ways in which we view our history and life have serious ramifications on modern human relations, public policy, and quality of life.
About the Author
---
Jeremy I. Levitt is the Associate Dean for International Programs and Distinguished Professor of International Law at Florida A&M University College of Law. He presently serves as chief legal advisor of the Liberian Truth and Reconciliation Commission and formerly served as a World Bank official and United Nations consultant. He is the author of several texts, including The Evolution of Deadly Conflict in Liberia: From "Paternalism" to State Collapse and the editor of Africa: Mapping New Boundaries in International Law.  Matthew C. Whitaker is an associate professor of history and an affiliate faculty member in African and African American studies and the School of Justice and Social Inquiry at Arizona State University. He is the author of several books, including Race Work: The Rise of Civil Rights in the Urban West (Nebraska 2007) and African American Icons of Sports: Triumph, Courage, and Excellence. Contributors: Mitchell F. Crusto, Bryan K. Fair, Ruth Gordon, Linda S. Greene, D. Marvin Jones, Phyllis W. Kotey, Jeremy I. Levitt, Kenneth B. Nunn, Charles R. P. Pouncy, Alyssa G. Robillard, Andre L. Smith, Carlton Waterhouse, and Matthew C. Whitaker.
Praise For…
---
"Jeremy I. Levitt and Matthew C. Whitaker have prepared a fact-laden and analytically rich collection of writings about the social inequities that exacerbated the suffering wrought by Hurricane Katrina. It is an important contribution to a variety of disciplines including history, law, sociology, political science, and African American studies. The impassioned authors who speak in this anthology are determined to prevent amnesia from erasing from American memory this signal tragedy. They deserve a wide and attentive audience."—Randall Kennedy, Michael R. Klein Professor of Law at Harvard University Law School and author of Sellout: The Politics of Racial Betrayal

"Levitt and Whitaker have made a distinct contribution to the expanding body of scholarship and reflection on the social and political meanings of Hurricane Katrina. Their book also represents an urgent call to action—designed to address the persistence of racial inequality and poverty in the United States and to prevent the future transformation of natural disasters into man-made calamities."—Joe William Trotter Jr., Giant Eagle Professor of History and Social Justice and head of the Department of History at Carnegie Mellon University and author of The African American Experience

"Jeremy I. Levitt and Matthew C. Whitaker, and the distinguished contributors to this illuminating anthology, critically assess the magnitude and complexity of the Katrina catastrophe. This book is a must-read for anyone interested in the relevance of race, class, and gender, and the consequences of entrenched poverty and governmental ineptitude."—Darlene Clark Hine, Board of Trustees Professor of African American Studies and professor of history at Northwestern University and coauthor of The African American Odyssey

"This eclectic collection of essays succeeds in providing multiple layers of context to the "unnatural" tragedy of Hurricane Katrina."—S. E. Horn, CHOICE

"The vast majority of those evacuated after the levee breaks were African Americans and this book will help students and scholars to understand why. It is an important social lesson."—Edie Ambrose, Journal of African American History