Everyday Thai Cooking: Quick and Easy Family Style Recipes [Thai Cookbook, 100 Recipes] (Hardcover)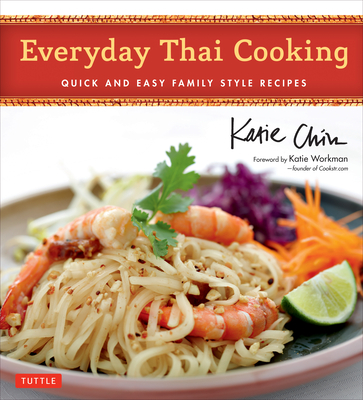 $24.95

Not in stock. Usually arrives in 2-5 Days
Description
---
In Everyday Thai Cooking, Katie Chin--a chef hailed as the 'Asian Rachel Ray' by her many fans--shares her recipe secrets along with tips, tools, and techniques that enable you to bring delectable homemade Thai dishes to your table effortlessly
As the daughter of award-winning restaurateur Leeann Chin, Katie's heritage has been deeply rooted in the cultivation of fine Thai cuisine. Katie has since taken the culinary world by storm as a well-respected food writer, television personality, and now published author. Katie is a leader among the cooking community. However, her real reward stems from her success at home. As a working mother of toddler twins, Katie realized a need for simple, easy and delicious Thai recipes that call for convenient ingredients and
Everyday Thai Cooking
delivers just that. This Thai cookbook offers basic recipes for staple dishes that include both homemade and store-bought options. From appetizers to desserts, each step-by-step recipe lists preparation times (most within thirty minutes) and alternates for less accessible ingredients. Illustrated with mouthwatering color photographs,
Everyday Thai Cooking
features more than 100 simple recipes for delicious Thai food.
Favorite Thai recipes include:
Crunchy Siam Spring Rolls
Tom Yum Goong
Crispy Mango Chicken
Shaking Beef
Fragrant Coconut Fish in Banana Leaves
Mee Krob
About the Author
---
Katie Chin is a private chef, culinary consultant, co-author of Everyday Chinese Cooking, and author of 300 Best Rice Cooker Recipes. She and her mother, Leanne Chinn, co-hosted the 2003 national PBS cooking series Double Happiness. Katie has made numerous appearances on The Today Show as well as on The Food Network and Fine Living. She recently served as a guest judge on Iron Chef America and will appear on the Cooking Channel's Food(ography) the summer of 2013. Born and raised in Minneapolis, Chin currently lives in Los Angeles.
Praise For…
---
"Being a judge on Iron Chef America could be intimidating for some, but Katie's understanding and passion for good food came through. In her latest book, Everyday Thai Cooking, she presents a delicious and mouthwatering assortment of Thai recipes that are simple enough for any home cook to master."—Iron Chef Morimoto

"As a professional chef who spends 6 days a week cooking Italian cuisine, I often find myself craving an alternative cuisine when I get home. My friend Katie Chin has solved that problem for my family by arming us with the tools we need for a successful Thai meal. Her inspired menus will bring your family the taste and traditions of Thailand inside the time constraints of the hectic American family schedule. Technique is the foundation of all great cooking! Buy this book and you'll be armed with all you need to make a healthy, tasty meal in no time."—Michael Chiarello, acclaimed chef, cookbook author, TV personality and winemaker

"Katie does such a great job of making the Thai kitchen accessible for all levels of cooks. It's an easy way to immerse yourself in everyday Thai food!"—Susan Feniger, chef, restaurateur, cookbook author, radio and TV personality, Co-Chef/Owner, Border Grill Restaurants and Truck and Susan Feniger's STREET

"Katie Chin's Everyday Thai Cooking is an ode to your taste buds—her recipes hit every note of spicy, sweet, sour and savory! The recipes are simple and quick (most meals can be made within 30 minutes or less) and every bit of authentic Thai. Katie's fool-proof recipes and insightful cook's tips ensure that your foray into Thai cooking is cheaper than restaurant dining, faster than take-out and just as delicious."—Jaden Hair, television chef, food columnist and award-winning food blogger at www.SteamyKitchen.com

"I love it that every page of Katie Chin's Everyday Thai Cooking is filled with gorgeous photography and mouthwatering recipes from Thailand. If you love Thai food and wish to attempt it at home, this is the book that will guide you through it."—Bee Yinn Low, author of Easy Chinese Recipes

"Let's be real—I'm a fashion expert, not a chef. Therefore the kitchen intimidates me and I wouldn't know what to do with a bean sprout unless it came with a handbag. Katie Chin's dynamic personality and ability to make food a relatable experience has transformed my fear of Thai cooking into an obsession that is now a daily part of my life. Her choice of ingredients are stylishly unique, while the ease and taste of her dishes have become my obsession. Friends, ever wanted an excuse to turn up the heat in the kitchen? Here it is."—Jeannie Mai, television host of Style Network's "How Do I Look?" and fashion correspondent on NBC's "Today Show"

"I met Katie's mother Leeann Chin when she was a guest on my cooking series, "Hawaii Cooks." Leeann was a fabulous cook and teacher. With this new book, her daughter Katie will make Thai cooking simple and approachable for the home cook, just like her mother did with Chinese cooking for American kitchens. Katie makes Thai cuisine easy to understand and approachable."—Roy Yamaguchi, award winning chef, author, inventor of Hawaiian Fusion« Cuisine and founder of Roy's Restaurant

"Flipping through the pages of this extraordinary cookbook, you cannot ignore Chin's unwavering passion for Thai cuisine. As a mother, wife, and daughter of a great restaurateur/chef, this is one teacher you want to pay attention to. The pages will inspire you, as it did for me, to bring your family and friends to the table to share a delicious healthy meal together."—Master Chef Martin Yan, author and host of "Yan Can Cook"