The Korean Table: From Barbecue to Bibimbap 100 Easy-To-Prepare Recipes (Hardcover)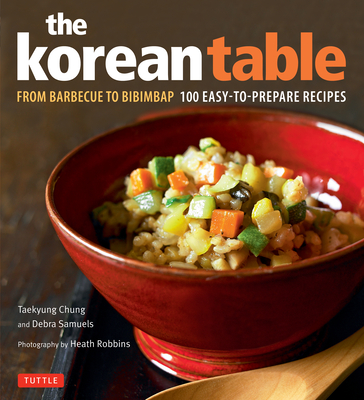 Description
---
This Korean cookbook makes it easy to replicate the authentic tastes of Korean food--even for beginners
Korean food is poised to become America's next favorite Asian cuisine. It is rapidly gaining popularity in the US for its robust and intensely flavorful dishes like Korean barbecue (known as bulgogi), kimchi (pickled spicy cabbage), and bibimbap rice bowls.
The Korean Table
shows American cooks how to replicate the exciting and authentic flavors of Korean cuisine at home using fresh ingredients available from their neighborhood grocery store or farmer's market. In this Korean cooking book, Chung and Samuels, a Korean and American author team, guide home cooks through the process of making Korean meals without fuss and multiple trips to specialty markets, or worse, expensive online shopping.
Along with showing cooks how to create a complete Korean meal from start to finish, it includes recipes such as:
Scallion Pancakes
Korean Dumplings (mandu)
Tofu and Clam Hot Pot
Simmered Beef Short Ribs
Barbecued Pork Ribs
The Korean Table
will also show cooks how to add the flavors of Korea to their homestyle cuisine in numerous quick and easy ways--via condiments, side dishes, salad dressings, sauces and more. With this cookbook, filled with over 100 recipes, everyone's kitchen can incorporate a spread of delicious Korean meals for all to share and enjoy.
The Korean Table
presents the best of Korean cooking for beginners.
About the Author
---
Taekyung Chung is a Korean ex-pat who has lived in Japan for 17 years. She is a frequent contributor to newspapers and magazines who has taught Korean cooking for 20 years, and is also author of two previously published books. Debra Samuels has taught cooking for over two decades. She has done countless cooking demonstrations and classes all over the Boston area as well as for the United States Embassy in Tokyo. She also developed the popular Kids Are Cooking series on food, culture and nutrition for Boston's Children's Museum in the United States. Ms. Samuels is also a food writer and food stylist for The Boston Globe.