Reading & Writing Vietnamese: A Workbook for Self-Study: Learn to Read, Write and Pronounce Vietnamese Correctly (Online Audio & Printable Flash Cards (Paperback)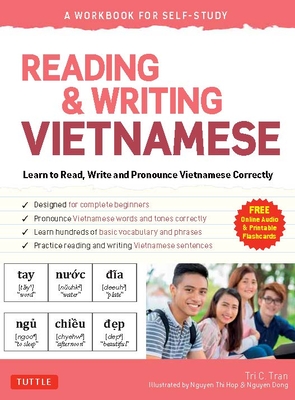 $14.99

Not in stock. Usually arrives in 2-5 Days
Description
---
The perfect book for beginners to learn all the basics of Vietnamese
Reading & Writing Vietnamese
offers an easy way to learn how to speak, read and write in Vietnamese. Often a difficult language to learn, this book is specially designed for beginners with no previous experience in studying or speaking the language guides learners through all the sounds of Vietnamese, including consonants, vowels and tones, the Vietnamese alphabet and more. This easy-to-use workbook includes lessons comes with free native-speaker audio recordings that allow you to practice hearing and speaking the sounds and basic vocabulary and phrases, as well as flash cards to download and print from home. Author Tri C. Tran has over 20 years of experience as a Vietnamese language teacher and has designed a series of lessons that are perfect for beginners.
The book includes:
A basic introduction to all the sounds of the language and how to read and write them
The system of Vietnamese tones--how to distinguish them and pronounce them correctly
Free audio recordings by native speakers help you accurately pronounce Vietnamese
Free downloadable flashcards to help you learn the Vietnamese alphabet and basic vocabulary
Extensive exercises (including dialogues, listening drills, building sentences, fill-in-the blanks, readings, and multiple-choice) to reinforce each lesson
Interesting cultural information on Vietnamese customs, pastimes, foods and everyday life
An index of grammatical terms and a Vietnamese-English glossary
.
About the Author
---
Tri C. Tran, PhD. is a lecturer of Vietnamese at the University of California, Irvine. He has a Ph.D and a M.A. (Romance Linguistics and Literatures), and a B.A. (Spanish Linguistics) from UCLA. He also teaches Spanish and French language and linguistics, Romance linguistics, English as a Second Language and English Academic Writing. His publications include Vietnamese language texts and a bilingual dictionary for students of linguistics. He is the author of Vietnamese Stories for Language Learners.