Modern Baptists (Voices of the South) (Paperback)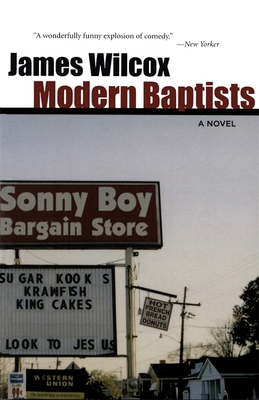 Description
---
Universally and repeatedly praised ever since it first appeared in 1983, Modern Baptists is the book that launched novelist James Wilcox's career and debuted the endearingly daft community of Tula Springs, Louisiana. It's the tale of Bobby Pickens, assistant manager of Sonny Boy Bargain Store, who gains a new lease on life, though he almost comes to regret it. Bobby's handsome half brother F.X. -- ex-con, ex-actor, and ex-husband three times over -- moves in, and things go awry all over town. Mistaken identities; entangled romances with Burma, Toinette, and Donna Lee; assault and battery; charges of degeneracy; a nervous breakdown -- it all comes to a head at a Christmas Eve party in a cabin on a poisoned swamp. This is sly, madcap romp that offers readers the gift of abundant laughter.
Modern Baptists was included in Harold Bloom's The Western Canon, in GQ magazine's forty-fifth anniversary issue as one of the best works of fiction in the past forty-five years, and among Toni Morrison's favorite works by unsung writers in U.S. News and World Report.
About the Author
---
James Wilcox is the author of eight novels, including North Gladiola, Miss Undine's Living Room, Guest of a Sinner, and, most recently, Heavenly Days. He is Robert Penn Warren Professor and director of creative writing at Louisiana State University and lives in Baton Rouge.