Cornbread Nation 6: The Best of Southern Food Writing (Cornbread Nation: Best of Southern Food Writing #6) (Paperback)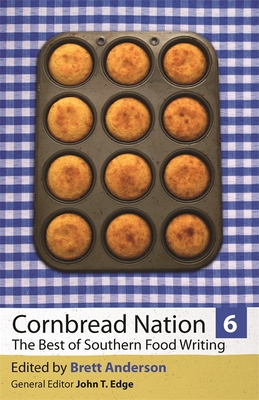 $24.95
Not in stock. Usually arrives in 2-5 Days
Description
---
The hungrily awaited sixth volume in the Cornbread Nation series tells the story of the American South--circa now--through the prism of its food and the people who grow, make, serve, and eat it. The modern South serves up a groaning board of international cuisines virtually unknown to previous generations of Southerners, notes Brett Anderson in his introduction. Southern food, like the increasingly globalized South, shows an open and cosmopolitan attitude toward ethnic diversity. But fully appreciating Southern food still requires fluency with the region's history, warts and all. The essays, memoirs, poetry, and profiles in this book are informed by that fluency, revealing topics and people traditional as well as avant garde, down home as well as urbane.
The book is organized into six chapters: "Menu Items" shares ruminations on iconic dishes; "Messing with Mother Nature" looks at the relationship between food and the natural environment; "Southern Characters" profiles an eclectic mix of food notables; "Southern Drinkways" distills libations, hard and soft; "Identity in Motion" examines change in the Southern food world; and "The Global South" leaves readers with some final thoughts on the cross-cultural influences wafting from the Southern kitchen. Gathered here are enough prominent food writers to muster the liveliest of dinner parties: Molly O'Neill, Calvin Trillin, Michael Pollan, Kim Severson, Martha Foose, Jessica Harris, Bill Addison, Matt and Ted Lee, and Lolis Eric Elie, among others. Two classic pieces--Frederick Douglass's account of the sustenance of slaves and Edward Behr's 1995 profile of Cajun cook Eula Mae Dor --are included. A photo essay on the Collins Oyster Company family of Louisiana rounds out
Cornbread Nation 6
. Published in association with the Southern Foodways Alliance at the Center for the Study of Southern Culture at the University of Mississippi. A Friends Fund Publication.
About the Author
---
BRETT ANDERSON is the restaurant critic and a features writer at the New Orleans Times-Picayune. The winner of two James Beard awards for journalism, Anderson has written for such publications as Gourmet, Food & Wine, and the Washington Post.
Praise For…
---
"This collection captures both the spirit and the history of Southern food culture. The breadth of this collection is inspiring. To be able to read Frederick Douglass next to Edward Behr and Michael Pollan is exciting to me. As someone who is passionate about American culinary history and culture, I was also pleased to find that these writings really challenged some of my most basic assumptions about why Southern cuisine exists as it does today."

—David Chang, chef/owner of Momofuku


"A veritable feast of good writing and original thinking . . . Like the well-made meal, it's carefully sequenced to document tradition as well as innovation, history as well as the surprisingly new."

—Tom Rankin, director of the Center for Documentary Studies at Duke University



"Southern food has become high profile, but there is not a better book than Cornbread Nation 6 to understand its appeal. From family tables to city restaurants, from Cajuns to Texans to Geechee girls, from slave food to contemporary ethnic offerings, this book offers engaging and informed stories of the diversity of southern foodways. A book that gives food voices from Frederick Douglass to Wendell Berry (by way of Michael Pollan) should be consumed with gusto. Pour a beverage, whether bourbon or Cheerwine, and sit down with this book on the porch. The light will shine."

—Charles Reagan Wilson, Cook Chair of History and Southern Studies, University of Mississippi