The Book in the Book in the Book (Hardcover)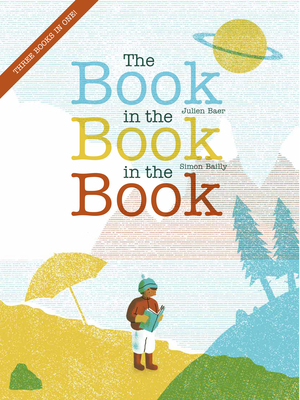 Description
---
In this unique novelty book, join a young boy named Thomas on his adventure in a book . . . inside a book . . . inside a book

Having wandered off from his vacationing family, Thomas is a little bit lost and looking for something interesting-- which he finds, in the form of an abandoned book on the beach.  As Thomas opens up the little book, so does the reader! 

Within the little book, the story repeats-- until Thomas, this time walking through quiet, snowy woods, finds another smaller book, with an even stranger adventure within it.

Wandering again through the third book, Thomas finally hears familiar voices and ends up reuinted with his family. But what adventures lay ahead . . . ?

Cleverly constructed with two actual, smaller books within the book, this imaginative adventure is illustrated in bold, graphic style.  A perfect gift for young, curious readers!
About the Author
---
JULIEN BAER is a composer and singer who has had several albums released in France as well as several children's books.

SIMON BAILLY is a French artist, illustrator, and graphic designer who has worked on graphic novels and whose work has appeared in Citrus Review, Economic Alternatives, The Express, France.fr, and many more.
Praise For…
---
* "The second booklet is bound into the first one, and the third into the second. Each successive volume is smaller than the previous one, while the closing pages return to the original book's size as well as its setting. First published in France, this intriguing picture book features a short, pleasing text illustrated with attractive digital images. Children will enjoy the clever concept, which seems headed toward infinity until the story's ending brings the echoing narratives together in a single, satisfying conclusion. A simple idea artfully transformed into a memorable picture book."—Booklist, Starred Review


"Bailly's illustrations and some unusual formatting take a seemingly ordinary outing in surprising directions in this import from France."—Kirkus Reviews