Emdr Toolbox: Theory and Treatment of Complex Ptsd and Dissociation (Paperback)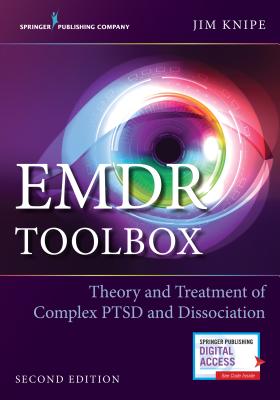 $106.50

Not in stock. Usually arrives in 2-5 Days
Description
---
Praise for the first Edition:
" R]eading this book has given me a whole host of new ideas about working with complex and dissociative clients... Clear and engaging, peppered with relevant case histories, this book would make an important addition to anyone's EMDR-related book collection."
--Dr. Robin Logie, EMDR UK & Ireland
"A brilliant and accessible book... T]he information in this book will revolutionize EMDR treatment with complex trauma/dissociated clients."
--Carol Forgash, LCSW, BCD
"This book is a jewel for EMDR clinicians. It is also recommended for any professional interested in the treatment of complex disorders... Jim Knipe is a highly gifted professional and this is the result of many years of experience and practice."
--Dolores Mosquera, MS, Amazon Review
This innovative resource for therapists trained in Standard EMDR delivers a powerful set of EMDR-based "Tools" - useful strategies for helping difficult-to-treat clients with complex emotional problems. The second edition reflects the author's ongoing efforts to design treatments that can significantly extend the therapeutic power of methods based on an Adaptive Information Processing model. It describes new discoveries that promote effective ways of structuring therapy sessions and refines original treatment procedures that can facilitate and safely accelerate therapeutic progress.
The book provides an overview of the principal issues in treating these complex emotional problems and describes highly effective methodologies with a wide variety of clinical presentations that originate in or include disturbing traumatic memories. It also describes how to integrate specific EMDR-related interventions with other psychotherapeutic treatments. Each intervention is examined in detail with accompanying transcripts, client drawings, and case studies illustrating the nuances and variations in intervention application. Bolstered by supporting theory and current research, the book also discusses how the concepts and vocabulary of other models of dissociation translate directly into EMDR's Adaptive Information Processing (AIP) language.
New to the Second Edition:
Describes new strategies and refinements of standard methods for treatment of clients with complex emotional problems
Includes two completely new chapters, "Internal Healing Dialogue" and "Case Example: treating the problem of 'attachment to the perpetrator'"
Provides new case examples on childhood sexual abuse
Offers new sections on treating chronic defensive shame, the importance of "fast" vs "slow" thinking processes, and new applications of "Loving Eyes" procedures
Includes ebook with the purchase of print version
Key Features:
Written by an EMDRIA-designated "Master Clinician"
Delivers successful treatments alternatives for difficult-to-treat clients
Provides a theoretical framework to guide assessment and treatment of clients with complex PTSD
Includes specific AIP tools, verbatim therapy scripts, client drawings, and case studies
Discusses each intervention in detail, illustrating the nuances and variation in different applications