Climbing the Ladder, Chasing the Dream: The History of Homer G. Phillips Hospital (Hardcover)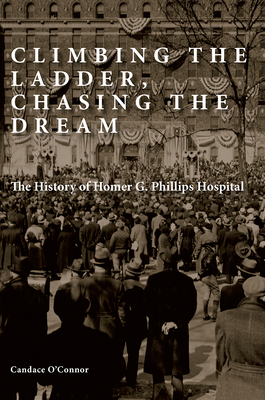 $66.80

Not in stock. Usually arrives in 2-5 Days
Description
---
Nothing about Homer G. Phillips Hospital came easily. Built to serve St. Louis's rapidly expanding African-American population, the grand new hospital opened its doors in 1937, toward the end of the Great Depression.  "Homer G.," as many called it, joined a burgeoning group of black hospitals amid a national period of institutional segregation and strong racial prejudice nationwide.

When the beautiful, up-to-date hospital opened, it attracted more black residents than any other such program in the United States. Patients also flocked to the hospital, as did nursing students who found there excellent training, ready employment, and a boost into the middle class. For decades, the hospital thrived; by the 1950s, three-quarters of African-American babies in St. Louis were born at Homer G.

But the 1960s and 1970s brought less need for all-black hospitals, as faculty, residents, and patients were increasingly welcome in the many newly integrated institutions. Ever-tightening city budgets meant less money for the hospital, and in 1979, despite protests from the African-American community, HGPH closed. Years later, the venerated, long-vacant building came to life again as the Homer G. Phillips Senior Living Community.

Candace O'Connor draws upon contemporary newspaper articles, institutional records, and dozens of interviews with former staff members to create the first, full history of the Homer G. Phillips Hospital. She also brings new facts and insights into the life and mysterious murder (still an unsolved case) of the hospital's namesake, a pioneering Black attorney and civil rights activist who led the effort to build the sorely needed medical facility in the Ville neighborhood.
About the Author
---
Candace O'Connor is a freelance journalist and the author of 14 books, including histories of Barnes-Jewish Hospital and the Central West End, as well as A Song of Faith and Hope: The Life of Frankie Muse Freeman. She also wrote and co-produced a PBS documentary, Oh Freedom After While: The Missouri Sharecropper Protest of 1939, which won a regional Emmy award. She lives in St. Louis with her husband.

 
Praise For…
---
"Although Homer G. Phillips was in existence for only 42 years, it has become a legend for the major role it played in the development of the Ville community. The book brings to life the story of a successful black hospital operated by African Americans."—Dr. John A. Wright, former superintendent of schools in St. Louis

"Candace O'Connor has written an inspiring, though at times despairing, account about a vital part of St. Louis's history. It not only relates a powerful story about Black St. Louis but provides rich information about Blacks and the medical profession. All St. Louisans should be grateful for this book."—Gerald Early, Washington University, editor of Ain't But a Place: An Anthology of African American Writings about St. Louis

"I grew up in the Ville, within walking distance of Homer G. Climbing the Ladder, Chasing the Dream: The History of Homer G. Philips Hospital is not just the history of an iconic hospital, it is a walk through time of the history of healthcare for African Americans. In the age of COVID, it is not only a poignant reminder of what can be done to deal with the healthcare inequities that people of color in America face, it is also a challenge to this generation to do more."—Ambassador Charles Stith, Chairman of The Pula Group, author of For Such a Time as This: African Leadership Challenges

"Climbing the Ladder, Chasing the Dream is a thorough and engaging history of St. Louis's Homer G. Phillips Hospital, one of the most important Black institutions in twentieth-century America.  But the book is much more than that. Through this book, Candace O'Connor provides important perspectives on a variety of topics, including the Great Migration, the causes and consequences of segregation and integration, and the overall issue of race in modern America."—Gary R. Kremer, Executive Director of the State Historical Society of Missouri, author of This Place of Promise: A Historian's Perspective on 200 Years of Missouri History

"You read Climbing the Ladder, Chasing the Dream and wonder, dazed, why no one put all this rich material together before. At once intimate and sweeping, the book is the first full history of St. Louis's most extraordinary, embattled, and glorious hospital."—The Common Reader