Apex: Nexus Trilogy Book 3 (Nexus Arc #3) (Paperback)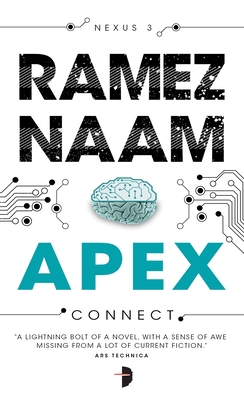 $17.54
Special Order. May not be available. Call the store for details.
Other Books in Series
This is book number 3 in the Nexus Arc series.
Description
---
The Explosive Conclusion to Nexus and Crux

Winner of the Philip K. Dick Award
 
Global unrest spreads through the US, China, and beyond. Secrets and lies set off shockwaves of anger, rippling from mind to mind. Riot police battle neurally-linked protestors. Armies are mobilized. Political orders fall. Nexus-driven revolution is in here.
 
Against this backdrop, a new breed of post-human children are growing into their powers. And a once-dead scientist, driven mad by her torture, is closing in on her plans to seize planet's electronic systems, and re-forge everything in her image.
 
A new Apex species is here. The world will never be the same.

File Under: Science Fiction [ Humanity 2.0 | Mind Matters | Hive | This Will Happen ]
About the Author
---
Ramez Naam is a professional technologist, and was involved in the development of Microsoft Internet Explorer and Outlook. He holds a seat on the advisory board of the Institute for Accelerating Change, is a member of the World Future Society, a Senior Associate of the Foresight Institute, and a fellow of the Institute for Ethics and Emerging Technologies.

His non-fiction book More Than Human won the H.G. Wells Award.

His novels has been nominated for the Kitscie Award for Best Debut, the Prometheus Award, and the Arthur C. Clarke Award. He is a 2014 nominee for the John W. Campbell Award for Best New Writer.
Praise For…
---
Praise for the Neuxs series:

"Good. Scary good."
- Wired

"One of the Best Books of the Year"
- NPR

"Provocative... A double-edged vision of the post-human."
- The Wall Street Journal

"A lightning bolt of a novel, with a sense of awe missing from a lot of current fiction."
- Ars Technica

"Starred Review. Naam turns in a stellar performance in his debut SF novel... What matters here is the remarkable scope and narrative power of the story."
- Booklist

"A superbly plotted high-tension technothriller ... full of delicious, thoughtful moral ambiguity ... a hell of a read."
- Cory Doctorow

"A rich cast of characters...the action scenes are crisp, the glimpses of future tech and culture are mesmerizing."
- Publishers Weekly

"A gripping piece of near future speculation... all the grit and pace of the Bourne films."
- Alastair Reynolds, author of Revelation Space

"A sharp, chilling look at our likely future."
- Charles Stross, author of Singularity Sky and Halting State

"The most brilliant hard SF thriller I've read in years. Reminds me of Michael Crichton at his best."
- Brenda Cooper, author of The Creative Fire

"Any old writer can take you on a roller coaster ride, but it takes a wizard like Ramez Naam to take you on the same ride while he builds the roller coaster a few feet in front of you."
- John Barnes, author of Directive 51

"Naam displays a Michael Crichton-like ability to explain cutting-edge research via the medium of an airport techno-thriller."
- SFX Magazine

"An incredibly imaginative, action-packed intellectual romp!"
- Dani Kollin, Prometheus Award-winning author of The Unincorporated Man

"The only serious successor to Michael Crichton."
- Scott Harrison, author of Archangel