Jobsite Safety Handbook, Third Edition, English-Spanish (Paperback)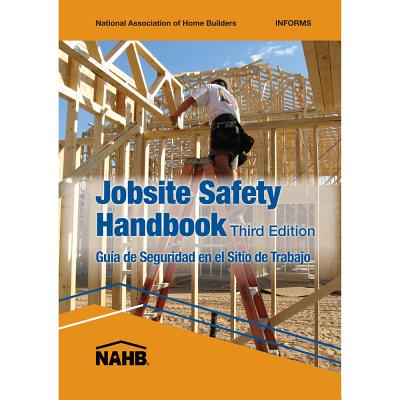 Description
---
The third edition of this popular handbook covers the key safety issues residential builders and trade contractors need to focus on to reduce accidents and injuries. This updated companion to federal regulations will help you prevent the most common hazards on your construction jobsites.

With clear illustrations and photographs, the handbook includes new and updated information on topics such as

• • Fall protection for roofing work and around openings
• Hearing and respiratory protection
• Working in confined spaces
• First aid
• Hazardous materials
• Housekeeping and general site safety
• Employer duties, including training and protective equipment

Use this guide to protect your workers and keep your jobsites safe. It's a MUST for your company safety program.
About the Author
---
The National Association of Home Builders is a Washington-based trade association representing more than 140,000 members involved in home building, remodeling, multifamily construction, property management, subcontracting, design, housing finance, building product manufacturing and other aspects of residential and light commercial construction. NAHB is affiliated with 700 state and local home builders associations around the country. NAHB's builder members will construct about 80 percent of the new housing units projected for this year. The Construction Safety & Health Committee provides NAHB members and state and local associations with assistance and resources to help builders operate safe job sites, comply with Occupational Safety and Health Administration (OSHA) regulations and lower workers' compensation costs through injury prevention. The committee guides the association's legislative and regulatory policy actions as it relates to occupational safety and health reform to ensure that OSHA regulations are practical, feasible, cost effective, and have a positive impact on worker safety. The committee also focuses on developing and delivering safety training and OSHA compliance assistance materials specific to the residential construction industry.