Mimi's First Mardi Gras (Hardcover)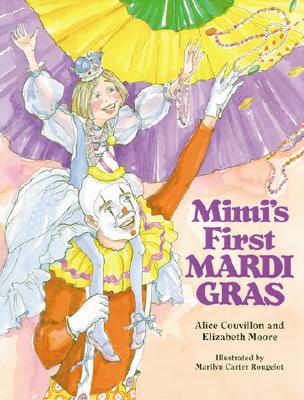 Description
---
Mimi awakens on Fat Tuesday morning and hurries to a breakfast of hot beignets (French doughnuts). At the table, Mimi's parents explain Mardi Gras traditions such as king cake, and the observances of Ash Wednesday and Lent.
Afterwards, dressed in colorful costumes, they depart for a day of Carnival excitement and parade watching. Perched on her father's shoulders at the Zulu parade, Mimi watches the bustling crowd enjoying Mardi Gras. Shouts of "Throw me something, mister " fill the air as ornately-costumed krewe members toss trinkets, beads, and doubloons from atop the passing floats. Using her youthful ingenuity, Mimi uses her crown to catch some of the shower of treasures, souvenirs of "that special day which only comes once a year."
Alice Wilbert Couvillon and Elizabeth Butler Moore, authors of Louisiana Indian Tales and Mimi and Jean-Paul's Cajun Mardi Gras, are both native Louisianians who experienced the thrill of their own first Mardi Gras years ago and later relived that excitement through the eyes of their children'a sort of on-the-job training for writing Mimi's First Mardi Gras.
Illustrator Marilyn Carter Rougelot utilizes an active imagination and lively colors that capture the sights of Mardi Gras for Mimi, and all of us.