Twisted Whiskers: Solving Your Cat's Behavior Problems (Paperback)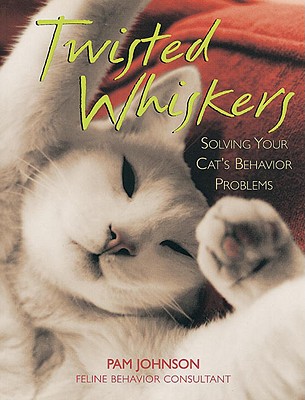 $15.99
Email or call for price
Description
---
Do you feel you'll never understand why your sweet little kitten sometimes turns into the cat from hell? TWISTED WHISKERS helps owners understand the reason behind the behavior and how to correct it permanently using step-by-step behavior modification techniques. This book will help cat owners regain the loving relationship they've always wanted with their cat. For new cat owners, this book is a must.
About the Author
---
PAM JOHNSON-BENNETT is a certified animal behavior consultant who has served as the spokesperson for Friskies. She is also the resident cat behavior expert at Yahoo!, where she writes the Think Like a Cat column. She owns Cat Behavior Associates in Nashville, Tennessee.

 THE AUTHOR SCOOP

What is the hardest thing about writing a book?Making sure I disguised my clients' characteristics well enough so no one would get mad at me.If you were an animal, what would it be & why?Well, that's a no-brainer! I'd have to be a cat. They have life figured out—protect your turf, stay well-groomed, and always be on the lookout for food.Have you ever met a famous person?With my career, I've had many famous clients, especially in country music since I live in Nashville. I love cats because they don't discriminate. They don't care that their owners are famous. They pee on their sofas anyway!What is your favorite thing about being an author?Knowing that you can step into people's lives through your words and hopefully make a difference.