Pickled Herring and Pumpkin Pie: A Nineteenth-Century Cookbook for German Immigrants to America (Paperback)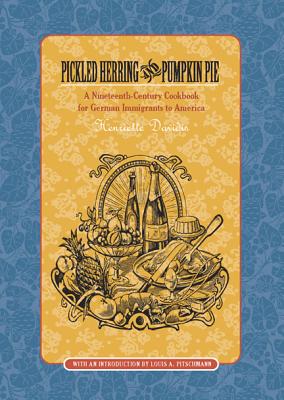 Description
---
Pickled Herring and Pumpkin Pie is the reprint of a best-selling nineteenth-century German cookbook that was adapted for Germans living in America. As several German-language editions were published in Milwaukee, the recipes and other information evolved considerably, and the book was eventually translated into English with the title Practical Cookbook.
The result is a fascinating mix of recipes from Old and New Worlds, ranging from traditional German fare (see the Beef Rouladen) to very American dishes (try the version of Strawberry Shortcake) to frontier cuisine--how about some roasted beaver tails? In addition to such culinary delights, Pickled Herring and Pumpkin Pie offers a glimpse into life in a nineteenth-century immigrant household and how immigrants tried to preserve the old ways while adapting to a new environment. Features of the cookbook include advice on how to use such "new" ingredients as corn or equipment like the Dutch oven, and how to shop in America, grow a proper kitchen garden, preserve food, cook medicinal dishes, and entertain properly.
Pickled Herring and Pumpkin Pie offers authentic immigrant recipes in their cultural, social, and historical context. It is a delightful resource for epicures with a historical bent as well as for those who enjoy learning more about the day-to-day life of their ancestors.
About the Author
---
Henriette Davidis (1801-1876) is widely regarded as Germany's most famous and influential cookbook author. A minister's daughter from Westphalia, she spent her young adult years working as a house mistress at wealthy estates and as a teacher at a school for young women. Striving to educate her students to be good housewives and proper young ladies, she saw a lack of written guidelines in the education of young girls and women, especially in their education as young cooks. In the middle of the nineteenth century, at a time when more than four hundred mostly regional cookbooks were already flooding the German market, Davidis created a cookbook of "tested recipes" from all over German-speaking Europe, recipes that were so clear "that even inexperienced young housewives and children could follow them and become good cooks." Her Practical Cookbook, first published in 1844, became an instant success. It went through twenty personally revised editions during her lifetime, and another forty-two editions before 1906. It was translated into Danish, Dutch, and English.