Economic Personalism: Power, Property and Justice for Every Person (Paperback)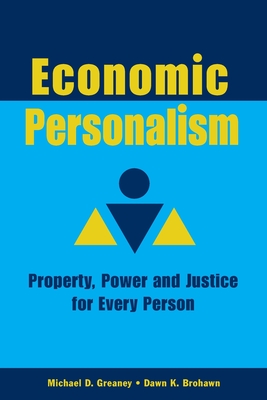 $15.80

Not in stock. Usually arrives in 2-5 Days
(This book cannot be returned.)
Description
---
A Book That Could Change Your Thinking About Social and Economic Justice Forever
For over 200 years people have been systematically stripped of their dignity as human persons, first by capitalism, then by socialism, as capital ownership became concentrated first in a private lite, then in a State bureaucracy. Forgotten was the demand that the dignity of every child, woman, and man be respected by equal access to the opportunity and means to be productive through ownership of both labor and capital.
In Economic Personalism: Power, Property and Justice for Every Person, co-authors Michael D. Greaney and Dawn K. Brohawn explain briefly what happened and why. They then present the principles of how essential institutions can be put back on track to serve the needs of every person. Giving the framework for an economic order that is neither individualist (capitalism) nor collectivist (socialism), but personalist, this book brings into the light of day assumptions about nature, society, and the human person, and about Church, State, and Family that have raised barriers against the full participation of every person in the institutions of the common good.
The result of years of intensive research and work in applying the principles of the Just Third Way, Economic Personalism has the potential not only to revitalize how individuals view their institutions and their place in society, but lays out principles that could guide and inspire debate on vital issues of the day and shape public discourse and future policy. Although based on Catholic social teaching based on natural law, the book is written from an interfaith perspective and is readily accessible and applicable by people of all faiths and philosophies.