Journey of a Teetotaling Virgin: a memoir based on a true story (Paperback)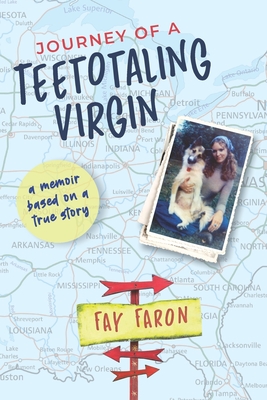 $18.74
Email or call for price
Description
---
"Buoyant humor...richly complex friendships and romantic relationships...moments that stir real emotion." (Booklife)
Setting off on a 3-year journey across America and Europe, free-spirited "good girl," Fay Faron, shakes off her fundamentalist upbringing as she navigates her way through the changing world of the 1970s, as she faces assault, poverty, punishing jobs, betrayal, loss, and romance.
Powering through a series of revenge plagues rained down from The Almighty-hey, she is breaking all the rules, after all-Fay must learn to recalibrate her conservative group-think or abandon her road-trip-as-a-lifestyle existence and retreat to the soul-crushing community from which she escaped.
Part historical snapshot, part travelogue and part confessional, this laugh-out-loud memoir is the story of every woman who has pondered the road not taken or grappled with the guilt of not being able to live up to rules she didn't make.
Booklife Review
With wit and an eye for the unexpected, writer and private eye Faron shares her coming-of-age quest to shake off a fundamentalist upbringing in the early 1970s, vividly capturing the challenge of self-discovery in a dangerous world. She lit out from Arizona in '72 to fulfill her "destiny as a Creative Writer"-she notes "nobody was creative enough to find anything to write about in Phoenix"-and embarked on a three year odyssey of travel in the U.S and Europe. She admits she was unprepared for the journey, though she found her expeditions exciting, albeit at times quite terrifying. Traveling mostly alone, she faced assault, poverty, language barriers, and punishing jobs (selling sewing machines; working at what turned out to be a puppy mill) to make ends meet.
Faron writes with buoyant humor, setting the stage for her travels and the era with cultural references ("*On the Radio: Mac Davis' 'Baby, Don't Get Hooked On Me'") and acknowledging that maybe rather than a writer she aspired to being "a Creative Live-er." Her targeted audience is adults, and women especially will enjoy the story, as much of Faron's writing centers on the challenges she faced as a soul-searching woman during an era of change. She's frank about having held attitudes that today seem retrograde-"nobody liked lesbians, not even the Woman's Movement"-though the occasional dated expression supports the theme of Faron breaking free from her conservative upbringing.
Faron's retelling of these experiences is engaging and impressive, with great attention to detail, and, for all the laughs, moments that stir real emotion. She's open about her naivet as she began to explore sexuality and the secular life, and at the heart of her narrative are richly complex friendships and romantic relationships. The story moves along at an enjoyable clip, as she shares amusing and intimate descriptions of people, places, and awkward situations. Faron's photos-linked in ebook format-are a wonderful addition.
"Delightful memoir
. A lovely, engaging thoroughly enjoyable read from a clearly joyful spirit "
"This could have been my story
- young, idealistic, naive, exploring the world on a shoestring budget."
"This book is hard to put down. It is fun read with some serious themes mixed in. Ms Faron's playful use of words kept a smile on my face. Her adventures are amazing - she takes us with her around the world.
"An Engaging Read: Fay defines and redefines herself as she moves from city to city and country to country, bringing a rich sense of humor into every circumstance. The chapter headings include references to the social influences at the time of each pivotal event. As someone who lived through these events as well, it was fun comparing my experience with Fay's."