Saltwater Taffy (Hardcover)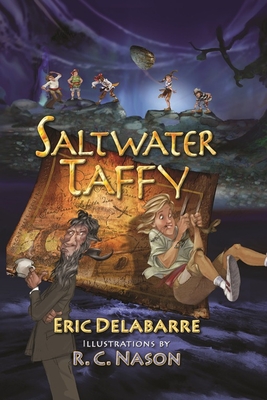 Email or call for price
Special Order. May not be available. Call the store for details.
Description
---
Endorsed by Teachers of the Year around the country, Eric DelaBarre's Saltwater Taffy follows the lives of five friends as they uncover a treasure map that once belonged to the ruthless New Orleans pirate, Jean Lafitte. The discovery thrusts them from one treasure hunting adventure to the next as they try to out-wit, out-think and out-maneuver everyone from the one-legged junk-yard man and an overbearing town bully, to the creepy old man living at the top of the hill. Saltwater Taffy is a raceto-the-finish adventure that grabs the reader and never lets go.
About the Author
---
Eric DelaBarre is an award winning filmmaker, speaker, and most recently, a ghostwriter for Random House/Harmony Books. Eric began his career with Dick Wolf on NBC's mega-hit drama Law & Order, and has worked with 20th Century Fox, Samuel Goldwyn Films, Universal Studios and Lions Gate Films. His work has been sold around the world and showcased on HBO, Cinemax, Showtime, Starz/Encore, USA Network, and NBC. Eric is also the past-president of the Boys & Girls Club of Santa Monica Council. R.C. Nason, a professional artist for more than 20 years, is the recipient of the Hans Christian Anderson Award for Thumbelina. He has worked with companies such as Harper Collins, Hallmark, 20th Century Fox and Sony, to name but a few.
Praise For…
---
TEACHERS OF THE YEAR AGREE!

A perfect read for the summer. A wonderful, fun-filled adventure for all ages!"

Sharon F. Andrews
2003 Presidential Award for Teaching Excellence
2006-2007 PTA Life Achievement Award
2008 South Dakota Teacher of the Year

It is rare in this day and age to find a book delivering a powerful message to young people that is not only exciting to read, but uplifting and inspiring as well. Saltwater Taffy delivers!"

Carol Shultz
Masters of Education National Board Certified Teacher
2008 Idaho Teacher of the Year

An intriguing adventure that both a fantasy-loving grandmother and her fifteen-year-old grandson can enjoy together."

Tamara Steen
2005 USA Today's All-USA Teacher Team
2005 Washington State Teacher of the Year
2005 National Teacher of the Year Finalist

After reading the page-turning excitement of Saltwater Taffy, I couldn't wait to recommend it to one of my best friends, my 9-year-old stepson, Flynt.

Phillip Palmer
Anchor, ABC News, Los Angeles

A wonderful book for reluctant readerspirates, treasure maps, and a coming of age story that perfectly captures the heroic struggles of adolescence. What's not to love?"

Josh Anderson
2007 Kansas Debate Teacher of the Year
2007 Kansas Teacher of the Year
2007 National Teacher of the Year, Finalist

Pirates, adventure and treasure! Saltwater Taffy is a rockin' good time. Aarrggghhhh!

Alan Sitomer
2007 California Teacher of the Year

Friendships, bad guys, and pirate treasure - what more could a young reader want! Readers will enjoy Saltwater Taffy so much, they won't even realize they are learning some great life lessons."

Paul Frick
Licensed Psychologist
Professor of Psychology and Chair, University of New Orleans
Editor, Journal of Clinical Child and Adolescent Psychology

Packed with adventure and intrigue, this story is about a treasure hunt that leads to one of the most important discoveries of all what really matters in life. It is a journey about self-discovery, friendships and transformations."

Beth Ekre
2009 North Dakota Teacher of the Year

Saltwater Taffy awakens the true spirit of adventure in each of us."

Michael Flynn, M.Ed.
Educational Consultant
2008 NEA Teaching Award for Excellence Finalist
2008 Massachusetts Teacher of the Year

Saltwater Taffy is more than a great read. Saltwater Taffy is SAWEET."

Aaron Young
President, CEO, Boys & Girls Clubs of Santa Monica

Saltwater Taffy is a pure joy to read and explore. It feels like a field trip to Treasure Island with the Goonies. It's a great inspirational adventure for young minds and those still young at heart."

Keil E. Hileman
2008 U.S. Department of Education Teacher and Ambassador Fellow
2007 Daughters of American Revolution National Outstanding Teacher
2004 National Education Association Horseman Teacher of Excellence
2004 Kansas Teacher of the Year
2004 National Teacher of the Year Finalist

A fun, family story for the adventurous reader. Pirates, mischief and real friendships make Saltwater Taffy a home run read!"

Mike Batesole
Head Baseball Coach, Fresno State University
2008 NCAA National Champions

A fast-paced story that hooks' readers from page one. Kids will find they want to turn the page to see what happens next rather than turn on the television. I loved it."

Ashley Ladd
2009 Team Up For Youth Phillips Fellow Recipient
2009 Academic All-WAC honoree
San Jose State University Scholar-Athlete & Dean's Scholar