The Coffee Shop Chronicles of New Orleans - Part 1 (Paperback)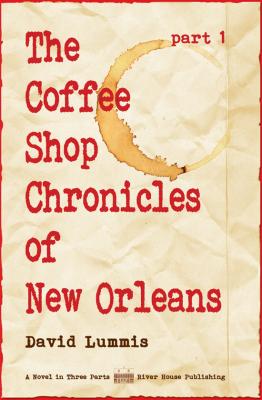 $14.95
Special Order. May not be available. Call the store for details.
Description
---
The agnostic, ten-years-sober son of a Baptist minister, B. Sammy Singleton has an opinion about everything. A transplant from New York City by way of Paducah, Kentucky, and New Haven, Connecticut, he also has a guidebook to New Orleans coffee shops to write. But when his best friend, Catfish—reluctant heir to the Beaucoeur sugarcane fortune and a one-time antiques dealer—is arrested for grave robbing and then goes missing, events spin out of control.



Narrated by Sammy in the days before a hurricane changes the city forever, The Coffee Shop Chronicles of New Orleans: Part 1 blends satire, mystery, and historical fiction as it explores the "sacrament" of coffee drinking, living sober, New Orleans' civil rights history, and the legacy of slavery and Jim Crow in America. The French Quarter and Faubourgs Marigny and Tremé inhabit the novel every bit as vividly as the offbeat characters Sammy encounters in his adopted hometown, which, as Sammy says, "took him in, no questions asked."



Though not always the most tuned in when it comes to himself, Sammy is a keen observer who takes readers on an antic journey that is often hilarious. But as Sammy becomes increasingly anxious about Catfish's well-being, he begins to excavate buried truths about himself and about what the tragedy-bound Catfish calls the American Holocaust. Whether you call New Orleans home or have never even visited, with B. Sammy Singleton as your guide you'll gain intimate new insights into a city many truly love, but few truly know.
Praise For…
---
Praise for The Coffee Shop Chronicles of New Orleans: Part 1



"Here is a guy who can paint accurately while he suffers—a talented bohemian, in other words. A worthy addition to your growing New Orleans shelf."

—Andrei Codrescu, author of whatever gets you through the night a story of sheherezade and the arabian entertainments





"If knowing for sure what to cherish, what to scorn, what to be amused by and what to get indignant about are the mark of a civilized man, then ex–New Yorker B. Sammy Singleton—the endlessly entertaining narrator of The Coffee Shop Chronicles of New Orleans—is doing his imperfect best to become one. Luckily, his creator is a few debonair steps ahead of him, blending antic comedy, wry social observation, an infectious love of America's multiple languages, and a troubled awareness of Southern history's rap sheet into a deft, uncommonly human tribute to the irreplaceable city both men love."

—Tom Carson, author of Gilligan's Wake and Daisy Buchanan's Daughter



". . . The Coffee Shop Chronicles remains the one constant in the rotating book stack on my nightstand. . . . I've return[ed] often to David Lummis's clever and unique take on the city I love, my hometown, an already well-recorded and oft misinterpreted culture. . . . Throughout, Lummis uses the past to comment on the present—and, like the reality of the Big Easy, it's not always easy to take. . . . [His book is] a sincere, thought-provoking, quotable and, whether we like it or not, timeless narrative.

—Wendy Rodrigue, NOLA writer and blogger at "Musings of an Artist's Wife"





"There's a little game that I find I can do with only a few books: Open your copy of The Coffee Shop Chronicles of New Orleans to any page at random, start reading and you'll get pulled into B. Sammy Singleton's (our hero) world of sardonic wit, his opinions and succinct verbiage guaranteed to put a smile in your mind's eye and turn your head around in entertaining fashion. As Sammy struggles with his procrastination and his deadline to write a guide book of New Orleans coffee shops, we get a delightful tour of that very special world. Try it. This stuff is delicious! BUT . . . read on throughout the book in proper chronological order, and you'll be rewarded with an emotionally satisfying wallop of a pay-off! This is a helluva story, and one of my favorite books. . . ."

—Steve Margoshes, composer (Fame the Musical) and Broadway orchestrator (Tommy, Aida)



"Lummis's tender and affectionate descriptions of New Orleans, his 'Paris of the South,' evoke Pat Conroy's lush and loving portrayal of coastal South Carolina. Just as Conroy's South of Broad is a paean to Charleston, so is Lummis's Chronicles a love song to New Orleans. Alternately funny, painful, entertaining, and always unflinchingly honest, The Coffee Shop Chronicles of New Orleans is a must read."

—Penne J. Laubenthal, Swampland.com: Cultures of the South



"Captures the soul of New Orleans through the transformative power of empathy."

—David O'Donaghue, Psy.D., Founder and Director of the New Orleans Lyceum and Chautauqua



"David Lummis's beautiful, funny, soulful book has a place among the great works about New Orleans and the deeply conflicted human relationships that made it what it is, and that shape it still. I grew to love Sammy and Catfish, and can't wait to see where their hard road ends. A must read for anyone who wants to understand what it means to be a New Orleanian."

—Rebecca Meredith, author of The Last of the Pascagoula and poet laureate, Redmond, Washington



". . . B. Sammy Singleton and Catfish represent all that is right and wrong, all that is the past, the present, and the future, and all that is the singular and enticing concerning New Orleans. If you are seeking a book that journeys beyond the 'touristy' feel of some New Orleans fiction and into the realm of New Orleans' spiritual yet convoluted, and oftentimes tragic nature, I recom­mend The Coffee Shop Chronicles."

—Paul Mahaffey, Ph.D., English Department Chair, University of Montevallo



"David Lummis is the most brilliant wordsmith I've read since I-don't-remember-when. . . ."

—Tony Fennelly, author of the Matt Sinclair and Margot Fortier mysteries



"David Lummis turns fiction into poetry. Many storytellers overwhelm readers with confusing plots and bog us down with superficial dialogue. Not Lummis. He moves inch by inch through his tale, describing in rich detail every scene and character with flavorful nuances. Reading his work is like watching a play. By blending elements of fiction, poetry, and playwriting, Lummis creates great literature. He brilliantly weaves vivid imagery with gifted storytelling. True literature is making a comeback thanks to The Coffee Shop Chronicles of New Orleans."

—Matthew Nolan, author of Exhuming Juliet and Crumpled Paper Dolls



"I always recommend this book to those curious about what it is really like to live, work and be entertained by the mix of characters, events and landmarks present for your inspection and enjoyment in the neighborhoods surrounding the Vieux Carré. The Coffee Shop Chronicles . . . shows you it understands what makes the heart of New Orleans tick and then leads you on a journey of experiencing the joy, drama and reality of living and working here as I have for almost half a century."

—Otis Fennell, owner, Faubourg Marigny Art & Books



"In the vein of Nicholson Baker's The Anthologist . . .with an Armistead Maupin–esque light touch of heady and eccentric characters, The Coffee Shop Chronicles . . . is a worthy addition to the literature of not-beginning, that is, a lipogram, only with the entire commissioned text missing rather than a mere letter, a book about a blocked writer who instead of starting a planned work, ruminates on the story around the story, so that the negative space becomes the focused-upon foreground, space which is seemingly autobiographically-set yet unbound by life, and New Orleans plays its role of the unwalled asylum for tipsy-tongued truth talkers, yet unlike Mr.'s Baker and Maupin, this is the inaugural novel by Mr. Lummis, but like his formers, he compels the reader through the book and coaxes curiosity of what comes next."

—Michael Zell, author of Errata (coming in 2012)



"David Lummis creates vivid scenes of New Orleans depicting contemporary life steeped in the unique culture, architecture and history of the city as he creatively tells the saga of B. Sammy Singleton. As the reader, you will cry, laugh and yearn for more. . . . The Coffee Shop Chronicles of New Orleans is a must read for all, including residents of New Orleans and travelers to the city."

—Deborah Oppenheim, Faubourg Marigny resident and author of the educational program "Ways to Think and Learn"



"Most of the book had me laughing, thanks to Lummis's great wit, or amazed at his local historical, architectural, and pop cultural references. However, the final chapter's poignancy left me in tears. Home is a relative concept, but he reminds us we are never too far away from home to accept the responsibility of our past as a human collective, no matter how uncomfortable. . . . While there are numerous local inside jokes, this novel is universal in appeal. Although I dwell uptown and Mr. Lummis is downtown, I am proud to call him a neighbor. . . ."

—Kristin Fouquet, author of Twenty Stories and Rampart & Toulouse



"David Lummis knows the character of New Orleans and the characters who inhabit the city. He has put them all together in a page-turning package. . . ."

—Kent Westmoreland, author of Baronne Street



"Coffee Shop Chronicles is a marvelous read, filled with genuinely likable characters who come to life across the pages. . . ."

—Rick Rockhill, Palm Springs Savant blogger and host of the weekly radio show "The Palm Springs Savant & Co."



"This book is observant, passionate, beautifully written, and chock full of quirky (but likable) characters who live on the fringes of society. Lummis has a real feel for southern tragic/comedic humor; I found myself laughing out loud many times. . . . I'm dying to see what happens to the elusive Catfish!"

Brenda Wilson Wooley, writer and blogger at "One Kentucky Writer"



" . . . I like to describe [The Coffee Shop Chronicles] as Armistead Maupin (Tales of the City) meets David Sedaris (Me Talk Pretty One Day, et al.) at Confederacy of Dunces. . . . [If] you're wondering if you'll laugh—yes, you will! You may be rendered speechless and appalled at other times in the book, but you will most definitely enjoy David's lively humor and wit. Read it! Now! Incredibly enjoyable. If you already love New Orleans, or want to get to know her better, you will enjoy the book even more so."

—Ray Ruiz, Faubourg Marigny resident