What the Sleepy Animals Do at the Audubon Zoo (Hardcover)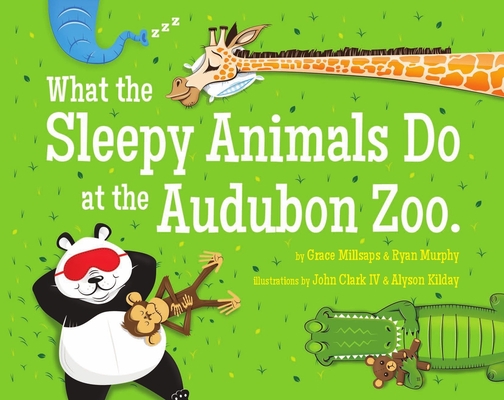 $22.17
Email or call for price
Description
---
Rhinos rock out. Alligators stroll under limbo polls. Elephants pound the piano. Pelicans cater.

Ever wonder why the animals at the zoo are always so sleepy? When Renee asks her father why the zoo animals are snoozing all day, he dreams up an elaborate answer. At night, the monkeys steal the zookeeper's keys, and all of the animals come out of their cages to dance, eat, and play. By the time the visitors arrive in the morning, the animals are all tuckered out. Renee doesn't believe her father's tale, but dads have a way of being right about these things.
About the Author
---
Grace Millsaps is a preschool teacher and author who has taught children on three continents. Ryan Murphy is a performer at The New Movement Theater, a proud member of the 610 Stompers, a licensed tour guide, and, just for fun, a barred attorney in the state of Louisiana. He taught at Heilongjiang Institute of Technology and wrote for China Economic Review magazine. Millsaps and Murphy are the coauthors of You Wouldn't Like Me Without My Coffee. John Clark IV is graphic designer and illustrator who cofounded the creative agency Hop & Jaunt.  He is the cartoonist of the Today in NOLA cartoon which celebrates the quirks of life in New Orleans. Alyson Kilday is the cofounder and creative director of Hop & Jaunt a design. She has lived and visited over a dozen countries and is fluent in both Japanese and Spanish. They all live in New Orleans.
Praise For…
---
"A whimsical, fantastical tale."  —The Times-Picayune

 "It's clear these guys know NOLA and the sometimes-sleepy animals that live there, and their love for the city shines through in this sweet story."  —Nerdy With Children

"This book has beautifully detailed illustrations and off-the-charts imagination."  —Indiegogo