Why We Hate Cheap Things (Hardcover)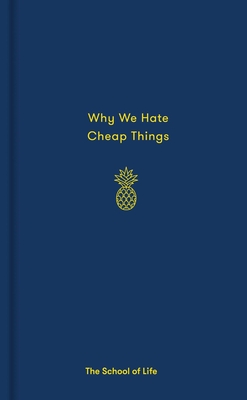 Description
---
How to rethink your consumer habits and feel richer at heart.
Our society encourages us to equate expense with value. The more expensive something is, the more we're encouraged to covet it. Yet as its market price falls, our interest and passion tend to fade. This recurrent pattern, The School of Life argues, is a cultural misfortune. We need to rethink our patterns of consumption.
Why We Hate Cheap Things
considers how to do so, and reveals how most of us already have more than we need. With humor and utility, the book teaches us how the practice of gratitude can lead us to a more meaningful understanding of wealth.
A COMMON SENSE APPROACH TO ECONOMICS
EXPLORES IDEAS ABOUT MONEY, WORTH, AND WEALTH through a philosophical lens.
A REFRESHING REMINDER TO APPRECIATING WHAT WE HAVE rather than coveting what we don't.
ILLUSTRATED with full color images throughout.
About the Author
---
The School of Life is a global organization helping people lead more fulfilled lives. Through our range of books, gifts and stationery we aim to prompt more thoughtful natures and help everyone to find fulfillment.The School of Life is a resource for exploring self-knowledge, relationships, work, socializing, finding calm, and enjoying culture through content, community, and conversation. You can find us online, in stores and in welcoming spaces around the world offering classes, events, and one-to-one therapy sessions. The School of Life is a rapidly growing global brand, with over 7 million YouTube subscribers, 389,000 Facebook followers, 174,000 Instagram followers and 166,000 Twitter followers. The School of Life Press brings together the thinking and ideas of the School of Life creative team under the direction of series editor, Alain de Botton. Their books share a coherent, curated message that speaks with one voice: calm, reassuring, and sane.