Words Whispered in Water: Why the Levees Broke in Hurricane Katrina (MP3 CD)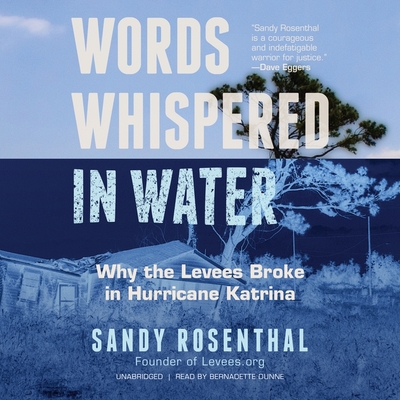 $29.95
Email or call for price
Description
---
In 2005, the world watched in horror as a major American city--New Orleans--was nearly wiped off the map by an epic flood. Newscasters attributed the flooding to a "natural disaster."
But one New Orleanian had her doubts.
Words Whispered in Water is the story of how--against all odds--one woman exposed the culprit in the catastrophic flooding and compelled the news media, and the government, to tell the truth.
Words Whispered in Water highlights the importance of exposing the bad behavior of giant corporations and bureaucracies whose unsavory activities affect millions of people, because once bad behavior is exposed, there is noticeably less fraud and better behavior on the part of an organization. Rosenthal's story is crucial listening for potential citizen activists looking to make a difference. Additionally, Words Whispered in Water provides lessons for politicians and bureaucrats from City Hall, to Congress, to the almost faceless Army Corps.
Finally, Words Whispered in Water offers a valuable warning as to what is likely to happen in this time of eroding coastlines, coupled with America's history of trying to control--instead of coexist--with water.