The Novelty of Greek Cuisine (Paperback)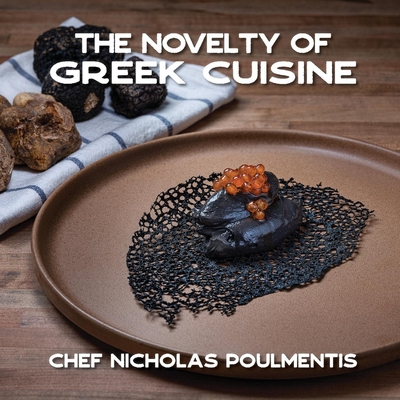 $35.00

Not in stock. Usually arrives in 2-5 Days
Description
---
Chef Nicholas Poulmentis, executive chef based in New York City and Chopped Champion, publishes his first cookbook: The Novelty of Greek Cuisine. These recipes were created to pay homage to his Greek roots while also sharing his evolution as a chef. Star recipe of the book, the Black Tarama, is Chef Poulmentis' most favored creation. It, much like the rest of the book, captures both his essence as a chef and his first taste of success in New York City. Enjoy!
About the Author
---
Nicholas Poulmentis is Chopped champion and Executive Chef in New York City. Poulmentis was born in New York City to Greek parents but left the U.S. when he was a year old to the Greek island of Kythria. Decades later, he followed his parent's footsteps and returned to NYC, where he conquered the culinary scene. Nicholas steps into the kitchen of Oli.Vine bringing with him more than 20 years of experience with Mediterranean-style cuisine. He was the former Executive Chef at Akrotiri Seafood Taverna, Theos and Kellari Taverna. He studied at the S.T.E. Anavyssos (the leading culinary school in Greece) and at Le Cordon Bleu, and was also the Executive Chef at Blue Olive Market. In addition, Chef Nicholas was a guest chef at the White House (2013 and 2015), instructed at FED CUP culinary school, and hosted the New Greek TV's show, "Greek Kitchen." He also owns the Cengo Hotel Academy and Cengo restaurant.
Oli.Vine delves deeply into Chef Nicholas' innovative culinary approach to Mediterranean fare. With an emphasis on fresh local ingredients, and a menu influenced by Poulmentis' extensive training and Greek heritage, Oli.Vine offers a distinct Mediterranean dining experience through a wide range of seafood dishes, house-made pastas, and shareable starters with the Chef's imaginative signature accents.
In addition to his passion for food, Chef Nicholas is a huge advocate for Greek natural wines. During his time at Akrotiri, he fashioned a wine list (with the help of wine importers Eklektikon) that consisted from Greek regions and indigenous grapes.

In July 2018, Nicholas made his first appearance on Food Network's Chopped and won the televised culinary competition. His main course dish was commended by Martha Stewart as "a successful entree". It was Nicholas' passion, creativity, and talent that got his appetizer, entree, and dessert through each round of the competition to ultimately win the $10,000 prize. Athena Villard is a writer and editor from New York City. She is the co-creator of Villanelle Press.