The Official A Game of Thrones Coloring Book: An Adult Coloring Book (A Song of Ice and Fire) (Paperback)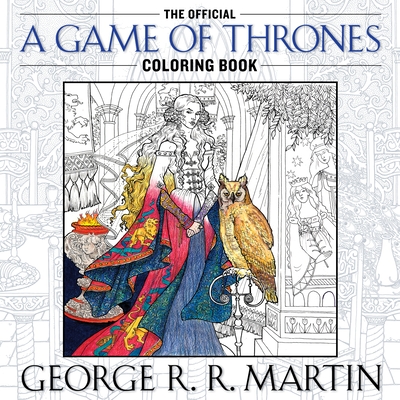 Description
---
NEW YORK TIMES BESTSELLER • Perfect for fans of George R. R. Martin's A Song of Ice and Fire and HBO's Game of Thrones, this one-of-a-kind adult coloring book features forty-five exclusive illustrations!
 
ALL MEN MUST DRAW
 
In a world where weddings are red, fire is green, and debts are paid in gold, countless images leap off the page thanks to the eye-popping intricacy of the vivid settings and details. Now, for the first time, fans of this blockbuster saga can fill in the blanks and marvel as this meticulously imagined universe comes to life, one sword, sigil, and castle at a time. With dozens of stunning original black-and-white illustrations from world-renowned illustrators Yvonne Gilbert, John Howe, Tomislav Tomić, Adam Stower, and Levi Pinfold, this unique collector's item expands the reach of an international phenomenon with flying colors.
About the Author
---
George R. R. Martin is the #1 New York Times bestselling author of many novels, including the acclaimed series A Song of Ice and Fire—A Game of Thrones, A Clash of Kings, A Storm of Swords, A Feast for Crows, and A Dance with Dragons—as well as Tuf Voyaging, Fevre Dream, The Armageddon Rag, Dying of the Light, Windhaven (with Lisa Tuttle), and Dreamsongs Volumes I and II. He is also the creator of The Lands of Ice and Fire, a collection of maps from A Song of Ice and Fire featuring original artwork from illustrator and cartographer Jonathan Roberts, and The World of Ice & Fire (with Elio M. García, Jr., and Linda Antonsson). He lives with the lovely Parris in Santa Fe, New Mexico.