The Last Rhinos: My Battle to Save One of the World's Greatest Creatures (Paperback)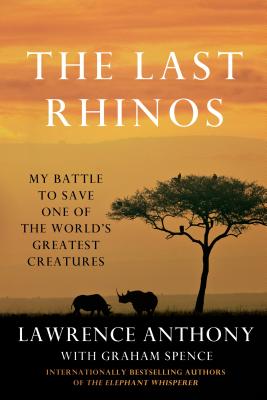 Description
---
The inspiring true story of "the Indiana Jones of conservation." —The Guardian (UK)

When Lawrence Anthony, author of The Elephant Whisperer, cared for not only elephants but other types of wildlife, including rhinos, on his nature reserve. So when he learned that there were only a handful of northern white rhinos left in the wild, living in an area of the Congo controlled by the infamous Lord's Resistance Army, he was determined to save them from extinction. If the world lost this subspecies of rhinoceros, it would be the largest land mammal since the woolly mammoth to go extinct, a tragedy for those who care about the world's endangered species.

What followed was an extraordinary adventure, as Anthony headed into the jungle to ask the rebels to help protect the rhino. Sometimes funny, sometimes moving, and always exciting, The Last Rhinos tells the story of his fight to save these remarkable creatures.
About the Author
---
Lawrence Anthony (1950-2012) founded the Thula Thula wildlife reserve in Zululand, South Africa; launched The Lawrence Anthony Foundation; and received the UN's Earth Day award for his efforts to save the animals of the Baghdad Zoo. With Graham Spence, he is the author of Babylon's Ark: The Incredible Wartime Rescue of the Baghdad Zoo, The Elephant Whisperer: My Life with the Herd in the African Wild, and The Last Rhinos: My Battle to Save One of the World's Greatest Creatures.

GRAHAM SPENCE is a journalist and editor. Originally from South Africa, he lives in England. Together he and Lawrence Anthony wrote Babylon's Ark: the Incredible Wartime Rescue of the Baghdad Zoo.
Praise For…
---
"A riveting account by a compassionate, dedicated man." —Kirkus Reviews

"Riddled with heartfelt anecdotes, Anthony's brave crusade to save these mammals—even at great risk to his own safety—reads like a safari adventure, a history lesson, and a warning that our careless ways will bring an end to so many magnificent species." —Publishers Weekly

"This inspiring story of courage and conservation is a moving testament of the good that can be done when there is a will." —Tucson Citizen

"The Indiana Jones of Conservation." —The Guardian (UK)

"Anthony has made a difference in the lives of many magnificent animals who otherwise would have been lost to the world." —Marc Bekoff, author of The Emotional Lives of Animals

"In my thirty-five years of studying man/animal communication I have met only a few individuals who have the ability to enter into the metaphysical realm of the exotic animal. Lawrence Anthony has been there and back." —Ralph Helfer, author of Modoc

"Anthony's enthusiasm and obvious love for the bush shine through in hair-raising, sad, and funny tales." —Booklist

"Anthony deserves tremendous credit for his fearlessness and perseverance in rescuing countless animals against all odds." —The Explorers Journal