The Blue Bloods Cookbook: 120 Recipes That Will Bring Your Family to the Table (Hardcover)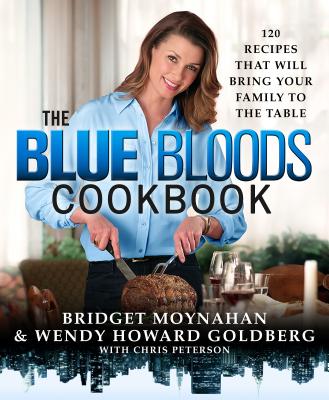 $35.00

Not in stock. Usually arrives in 2-5 Days
Description
---
ERIN REAGAN: How many times have you and I been setting the table together for Sunday dinner?

NICKY REAGAN: A million.

Anyone who has ever seen the hit TV show Blue Bloods knows that the family dinner is the centerpiece of every episode. And there are really only three things that Blue Bloods-and everyone else-need to make a successful family dinner: family, love and food. Bring the first two to the table and The Blue Bloods Cookbook will provide the third!

Bridget Moynahan, the show's star, invites you to partake in that sacred family ritual, offering food lovers more than 100 delectable recipes and bringing you Irish/Italian comfort food that will make you feel right at home, including:

-Clam Chowder (Manhattan, of course!)
-Arthur Avenue Spaghetti and Meatballs
-Chicken Francese
-Pizza, Reagan Style
-Standing Rib Roast with Cippolini Onion Sauce
-Cheesecake with NYPD Blue Topping

Just as there is a chair around the table for every family member, there is a recipe in this cookbook sure to make any eater happy to be home again. Hearty and soulful, The Blue Bloods Cookbook will make you say, "Amen, now pass the potatoes!"
About the Author
---
Wendy Howard Goldberg is the bestselling co-author of two books, Marry Me and Hollywood Moms. As wife of the Executive Producer Leonard Goldberg, Wendy saw an opportunity to share the Blue Bloods family dining experience with its loyal audience. Wendy is also the founder of a performing arts summer school in California that is now celebrating its 29th year.

Bridget Moynahan stars as Erin Reagan on CBS' Blue Bloods. Moynahan has starred in numerous Hollywood blockbusters, including "I, Robot," "The Recruit," "Serendipity," and "The Sum Of All Fears." On television, Moynahan portrayed Carrie's rival and Mr. Big's wife on "Sex And The City." Born in Binghamton, N.Y., and raised in Longmeadow, Mass., Moynahan now lives in Los Angeles.