Losing the Long Game: The False Promise of Regime Change in the Middle East (Hardcover)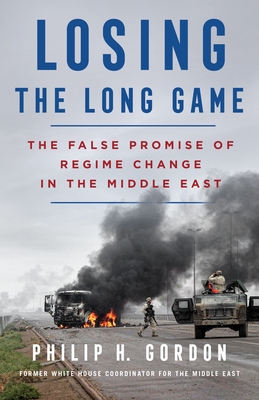 $29.99
Email or call for price
Description
---
One of Foreign Affairs' Best of Books of 2021 and "Books For The Century"!
"Book of the Week" on Fareed Zakaria GPS
Financial Times Best Books of 2020

The definitive account of how regime change in the Middle East has proven so tempting to American policymakers for decades—and why it always seems to go wrong.

"It's a first-rate work, intelligently analyzing a complex issue, and learning the right lessons from history."
—Fareed Zakaria

Since the end of World War II, the United States has set out to oust governments in the Middle East on an average of once per decade—in places as diverse as Iran, Iraq, Afghanistan (twice), Egypt, Libya, and Syria. The reasons for these interventions have also been extremely diverse, and the methods by which the United States pursued regime change have likewise been highly varied, ranging from diplomatic pressure alone to outright military invasion and occupation. What is common to all the operations, however, is that they failed to achieve their ultimate goals, produced a range of unintended and even catastrophic consequences, carried heavy financial and human costs, and in many cases left the countries in question worse off than they were before.

Philip H. Gordon's Losing the Long Game is a thorough and riveting look at the U.S. experience with regime change over the past seventy years, and an insider's view on U.S. policymaking in the region at the highest levels. It is the story of repeated U.S. interventions in the region that always started out with high hopes and often the best of intentions, but never turned out well. No future discussion of U.S. policy in the Middle East will be complete without taking into account the lessons of the past, especially at a time of intense domestic polarization and reckoning with America's standing in world.
About the Author
---
Philip H. Gordon is the Mary and David Boies senior fellow for U.S. foreign policy at the Council on Foreign Relations. He served as Special Assistant to President Barack Obama and White House Coordinator for the Middle East from 2013-15 and as Assistant Secretary of State for European and Eurasian Affairs from 2009-13. The author or co-author of several previous books (including Allies at War and Winning the Right War), his articles have appeared in the New York Times, Washington Post, Financial Times, Wall Street Journal, Foreign Affairs, The Atlantic, Politico, and Foreign Policy. He lives in Washington, D.C.
Praise For…
---
"Losing the Long Game is an engaging and provocative examination of US regime change efforts in the Middle East. Gordon shows the indispensability of bringing humility and historical awareness in US foreign policy, as well as the urgent need for the United States to cease its over reliance on military force and invest far more in economic development, people to people engagement, and diplomacy."
—Ambassador Samantha Power, former US representative to the UN and author of The Education of an Idealist

"Phil Gordon has written a compelling, sweeping narrative of how American good intentions consistently and predictably go awry in the Middle East. As a scholar and practitioner of American foreign policy, Phil is in a unique position to be able to connect the dots - from Iran in 1953 to Syria in 2020 - to demonstrate how both Republican and Democratic presidents fall into the same traps when trying to force political change on Middle Eastern societies. Each chapter is a page-turning insider's view into American interventions gone wrong, and the masterful conclusion, showing the common thread of hubris linking all our mistakes in the Middle East - should be required reading for any diplomat or military leader in training."
—Senator Chris Murphy

"Philip Gordon has written what will surely become the definitive analysis of how U.S. efforts at regime change in the greater Middle East over the past seven decades have largely backfired or had dismal second-order effects. Losing the Long Game is also refreshingly concise and bracingly well-argued."
—Peter Bergen, author of Trump and His Generals: The Cost of Chaos

"Gordon has written a devastating account of repeated U.S. attempts to remove leaders and transform political systems from North Africa to South Asia over the past seventy years. Whatever the intentions, regime change simply hasn't worked. Most attempts have come at horrific costs with unintended long-term consequences that have further undermined the original U.S. goals. Losing the Long Game is must reading—by someone who saw it first-hand--for all interested in America's foreign policy and its place in the world."
—Robin Wright, author of Rock the Casbah: Rage and Rebellion Across the Islamic World

"An essential reflection on an enduring temptation of American foreign policy. Phil Gordon deconstructs past mistakes and gives clues for a better approach. A must read for US policy makers but also readers in the Middle East puzzled by American failures."
—Kim Ghattas, author of Black Wave

"With sharp insight and refreshing candor, Phil Gordon lays bare the magical thinking which has so often led American policymakers to assume too much about our powers of transformation in the Middle East, and too little about the limits of our agency. Gordon offers a compelling argument for more pragmatism and less hubris, and for greater reliance on diplomacy in shifting the terms of America's engagement in the original land of unintended consequences."
—Ambassador William J. Burns, President, Carnegie Endowment for International Peace and former U.S. Deputy Secretary of State

"An important and timely book on how the pursuit of regime change in the Middle East since 1953 has been a disaster—with unanticipated consequences. Written by an insider with a masterful understanding of how American foreign policy is made, this is an urgent wake up call to get out of the habit of believing that there are cheap and easy ways to fix the complicated issues that the region poses."
—Bruce Riedel, senior fellow at the Brookings Institution, former senior CIA and National Security Council official, and author of Beirut 1958: How America's Wars in the Middle East Began

"Phil Gordon has written an important history of America's pursuit of maximalist goals in the Middle East, often with little understanding of local conditions and hubristic assumptions about American power to reshape foreign governments and societies. The result is a fast-paced and timeless journey through a land of unintended consequences. This is a book for future presidents, policymakers, and the citizens to whom they are accountable."
—Brett McGurk, former Special Presidential Envoy for the Global Coalition to Counter ISIS and Special Assistant to the President for Iraq and Afghanistan

"Any advocate of replacing an irritating foreign government with one that is more congenial should read Philip Gordon's incisive and salutary account of those cases where it has been tried in the past and invariably gone badly wrong'"
—Lawrence Freedman, Emeritus Professor of War Studies, King's College London, and author of A Choice of Enemies: America Confronts the Middle East

"Losing the Long Game recounts American efforts over the past seven decades to get rid of annoying regimes in the greater Middle East and to install in their place something more to Washington's liking...his criticisms are devastating."
—Andrew Bacevich, The New York Times Book Review

"Gordon, a former White House coordinator for the Middle East, has written a book whose depiction of policymakers' cheerful and carefree ignorance will have his readers wincing at virtually every page."
—Foreign Affairs