Mr. Nogginbody Gets a Hammer (Hardcover)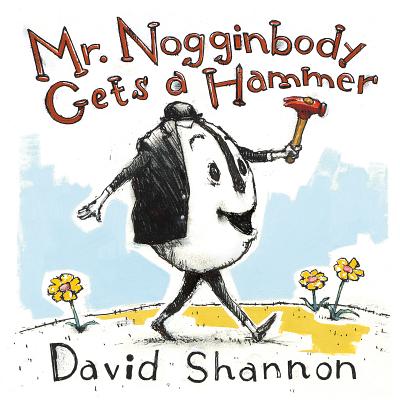 Description
---
Beloved picture book creator David Shannon introduces a new character in a satisfyingly silly and subversive take on a familiar parable.
If all you have is a hammer, everything looks like a nail.
After snagging his toe, Mr. Nogginbody makes a visit to his local hardware store in search of solutions. Armed with a shiny new hammer, he successfully fixes the nail protruding from his floor. But the satisfaction of his first repair carries him away, and he figures that anything resembling a nail—from a lamp switch to a fire hydrant—can be fixed with a good whack. The results are predictably and theatrically disastrous, until Mr. Nogginbody arrives at a gentle awakening and recognizes that not everything is a nail.
About the Author
---
David Shannon is the creator of the Caldecott Honor–winning No, David! and more than thirty other books beloved by children who "recognize immediately that they have found a kindred spirit" (New York Times). He lives in Los Angeles, California.
Praise For…
---
Shannon's latest has the timeless exuberance and psychological profundity of a great comedy. In short: nailed it.

A novel hero and a novel way to introduce a new generation to an old saying.

Storytime getting sleepy? FIXED IT!

Children will delight in Mr. Nogginbody's well-meaning and ridiculous fix-it attempts that yield comical destruction, and readers who take their stories on the sweeter side will be pleased that it ends on a gentle note.

Mr. Nogginbody is a refreshingly flawed hero whose naïve rampage promises plenty of giggles.

The humorous concept and brief text married to hilarious illustrations make this a great choice for story time or one-on-one sharing.