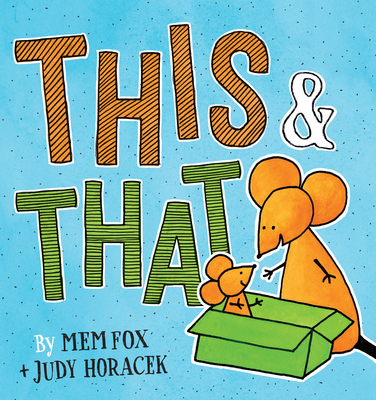 Description
---
A delightful read-aloud by internationally bestselling picture book author Mem Fox!This & That reunites bestselling picture book author Mem Fox with illustrator Judy Horacek, following their most recent collaboration on Good Night, Sleep Tight. In this delightful tale, two mice set off on a storytelling adventure that takes them through cavernous caves, atop crazy giraffes, and over palace walls until they return safely home to the comfort of their beds. A sweet, rhyming story, This & That is perfect for helping children develop their sequencing skills!
About the Author
---
Judy Horacek is an Australian cartoonist, artist, writer, and children's book creator. Her cartoons have been pinned up on doors and walls all over the world. She is also sometimes a visiting artist for school children and an after-dinner speaker for grown-ups. She is the illustrator of Mem Fox's Where Is the Green Sheep? as well as the author and illustrator of seven other children's books.
Mem Fox is Australia's most highly regarded picture book author. Her first book, Possum Magic, is the bestselling children's book ever in Australia, with sales of over 4 million. In the United States, Time for Bed and Wilfrid Gordon McDonald Patridge have each sold over 1 million copies. Mem has written over 35 picture books for children and five nonfiction books for adults, including the bestselling Reading Magic, aimed at parents of very young children.
Praise For…
---
Praise for Good Night, Sleep Tight"Sure to be reqeusted and welcome for lpsists and reciting togetehr any time of day." -- Kirkus Reviews"The pictures' visual directness, and goofy playfulness capture the spirit of the timeless rhymes and the enviable relationship between the lanky storyteller and his adoring audience." -- Publishers WeeklyPraise for Where is the Green Sheep?"This neat and satisfying wedding of text and art... Laughs and interactive play will ensue among readers and listeners, alone or in groups." -- Booklist"Ideally easy and well designed." -- KirkusPraise for Ten Little Fingers and Ten Little Toes"An instant classic... there's real magic at work here." -- Publishers Weekly"A gentle, joyous offering." Booklist"Fox's lifting verse just has to be read aloud, and preschoolers will quickly pick up on and join in on the anticpated refrain." -- The Horn Book Magazine

Praise for Good Night, Sleep Tight"Sure to be reqeusted and welcome for lpsists and reciting togetehr any time of day." -- Kirkus Reviews"The pictures' visual directness, and goofy playfulness capture the spirit of the timeless rhymes and the enviable relationship between the lanky storyteller and his adoring audience." -- Publishers WeeklyPraise for Where is the Green Sheep?"This neat and satisfying wedding of text and art... Laughs and interactive play will ensue among readers and listeners, alone or in groups." -- Booklist"Ideally easy and well designed." -- KirkusPraise for Ten Little Fingers and Ten Little Toes"An instant classic... there's real magic at work here." -- Publishers Weekly"A gentle, joyous offering." Booklist"Fox's lifting verse just has to be read aloud, and preschoolers will quickly pick up on and join in on the anticpated refrain." -- The Horn Book Magazine