Life and Adventures of the Original and Genuine Cowboys (Paperback)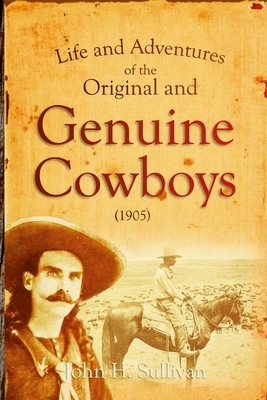 $12.45

Not in stock. Usually arrives in 2-5 Days
(This book cannot be returned.)
Description
---
"Sullivan, known on the plains and cattle ranges as Broncho John...followed every cattle trail from the Gulf of Mexico to the mountains of Washington.." -Centralia Journal, March 26, 1886 "Buffalo Bill tried to recruit Sullivan...Sullivan accepted the offer." -The Great Cowboy Strike (2018)
"Broncho John is proud of the fact that he is a cowboy and is very sensitive to the criticism that is passed upon the cowboys in the Eastern papers." -Star Tribune (Minneapolis), Oct. 30, 1889
"Rustlers Not Cowboys. Broncho John Repudiates the Kansas Bad Men---Not the Real Article." -Billings Weekly Gazette, May 2, 1889>
What is the difference between the genuine cowboy and the blustering cow-puncher or cattle rustler bedecked in western garb?
Famous cowboy John H. Sullivan (1859-1951), a.k.a. "Broncho John" answers this question and many others about authentic cowboy life in his 1905 book "Life and Adventures of the Original and Genuine Cowboys."
In distinguishing the genuine cowboy from others, Sullivan writes:
"They tog themselves in cowboy garb for the purpose of bluster, and finally turns out to be a cow puncher, with a pole, a prod in the end of it, a lantern on his arm, he punches the cattle as they are on their way east in cars. Those are the kind of fellows you tourists see while waiting for lunch at some station. If you want to see the genuine cowboy go two or three hundred miles back on the range, and especially during hostilities. Right in the east I have seen fellows who never saw a coyote, have a big rim hat on, drink whiskey, bum around, with big mouths that turn down from the nose, drink, blow, howl, swear, spit fire and call themselves cowboys."
About the author:
John H. Sullivan (1859-1951), known as "Broncho John" started off his career as a scout in the West, before becoming involved in Buffalo Bill Cody's Wild West show. He first donned the sombrero and spurs when he was twelve years old, and followed every, cattle trail from the Gulf of Mexico to the mountains of Washington Territory in the fifteen years that followed, before joining Buffalo Bill's show and eventually starting his own western show that toured the Midwest.