The Little Book of Ick: 500 reasons to get over them - for good (Hardcover)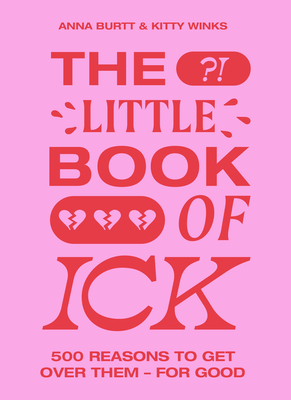 Description
---
· When they mistime a beat drop in the car
· When their toenail scrape you in bed
· When they sit at a bar stool and their feet hang awkwardly
· When they run out of what they want to order in a restaurant and they say, 'I was really looking forward to that' ...

You've been dating someone for a while and you notice something about them that turns your stomach. That's the 'ick' - it might be something weird or unremarkable, it might even be something you do yourself. Whatever it is, once you've got the ick there's no going back from it and, for better or worse, it's onto the next swipe.

The Little Book of Ick is a celebration of the dating phenomenon that plagues millions. Split into chapters that chart all the stages of finding love, this book is a collection of 500 hilarious icks: some you'll have already encountered, all ready for you to use when you need to get over someone - qu-ick-ly!

Cutting, relatable, witty, sharp - The Book of Ick will reassure you it's fine to be fussy, it might even soothe your future heartbreak ... or just make you laugh on the loo.
About the Author
---
Kitty Winks is one of Instagram's sassiest book bloggers, known for her brutally honest opinions and refusal to conform to the norm. Like many respectable Gen Zs, Kitty now works at a tech startup after having previously worked as a bookseller and museum guide.

Anna Burtt has worked in publishing for almost a decade and is currently Head of Events at a global writing consultancy. She is the host of the Brighton Book Club on Radio Reverb and has run a successful writing group for the last four years. She's recently finished her first novel, which is set in Yorkshire and explores grief, sexuality, intergenerational friendships and drag.