The Best of Gourmet: Sixty-five Years, Sixty-five Favorite Recipes (Hardcover)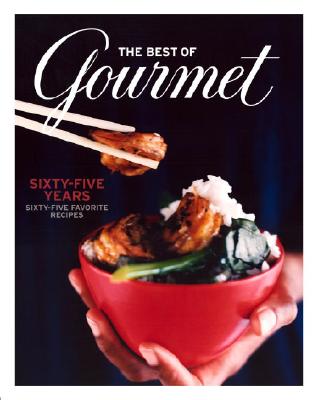 $40.00
Email or call for price
Description
---
Take a mouthwatering look and treat yourself to The Best of Gourmet, a spectacular collection of the year's best menus and recipes, all gathered for you in one beautiful cookbook! Plus, thrill your guests with our anniversary celebration section "Sixty-Five Years, Sixty-Five Favorite Recipes" featuring the best-of-the best recipes – one chosen from each scrumptious year of our magazine. With 350 delicious recipes, 28 spectacular menus and 120 full-color photographs.
Praise For…
---
Grilling has come a long way in America over the past decade, and now Gourmet shows you how to fire up your grill in style with a Sizzle in the City dinner that applauds Latin flavors. Yuca chips, avocado jicama salsa, and pink daiquiris are a colorful beginning, then it's on to grilled matambre (spinach-and-carrot-stuffed flank steak). Coconut tuile cones with passion-fruit ice cream add a final touch of chic to a very fashionable party. This is just one of the dozens of remarkable menus you'll find in this volume of The Best of Gourmet.

And speaking of sophistication, this year's Cuisines of the World section turns to San Francisco, a city that blends global cuisines for a taste all its own. Here you'll find a celebration feast inspired by the vibrant Italian community of North Beach, a glamorous Food Noir dinner, a handful of local favorites like crab Louis and Hangtown fry (fried-oyster omelet), and several dishes featuring the irresistible artichoke.

Indoors or out–let The Best of Gourmet, Featuring the Flavors of San Francisco make a stylish difference in your entertaining.