Mother Hunger: How Adult Daughters Can Understand and Heal from Lost Nurturance, Protection, and Guidance (Paperback)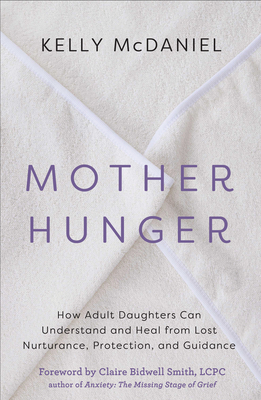 $16.99

Not in stock. Usually arrives in 2-5 Days
Description
---
An insatiable need for sex and love. Periods of overeating or starving. A pattern of unstable and painful relationships.

Does this sound painfully familiar?

Trauma counselor Kelly McDaniel has seen these traits over and over in clients who feel trapped in cycles of harmful behaviors-and are unable to stop.

Many of us find ourselves stuck in unhealthy habits simply because we don't see a better way. With Mother Hunger, McDaniel helps women break the cycle of destructive behavior by taking a fresh look at childhood trauma and its lasting impact. In doing so, she destigmatizes the shame that comes with being under-mothered and misdiagnosed. McDaniel offers a healing path with powerful tools that include therapeutic interventions and lifestyle changes in service to healthy relationships.

The constant search for mother love can be a lifelong emotional burden, but healing begins with knowing and naming what we are missing. McDaniel is the first clinician to identify Mother Hunger, which demystifies the search for love and provides the compass that each woman needs to end the struggle with achy, lonely emptiness, and come home to herself.
About the Author
---
Kelly McDaniel, LPC, NCC, CSAT is a licensed professional counselor and author who specializes in treating women who experience addictive relational patterns. A pioneer in her field, McDaniel is the first clinician to name Mother Hunger as an attachment injury and explore the repercussions of bonding to an emotionally compromised mother. Kelly teaches workshops and speaks to audiences nationwide about Mother Hunger. She is a frequent podcast guest and her groundbreaking work is being used at several treatment centers around the country.