The Blessing of a B Minus: Raising Resilient Teenagers (Paperback)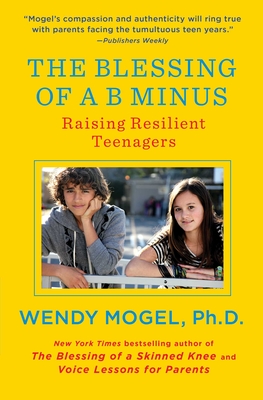 Description
---
New York Times bestselling author and host of the podcast Nurture vs Nurture Dr. Wendy Mogel shows parents how to navigate the challenging teenage years.

When a child becomes a teenager, her sense of entitlement and independence grows, the pressure to compete skyrockets, and communication becomes fraught with obstacles. Dr. Wendy Mogel emphasizes empathy, and offers guidance over micromanaging teens' lives and overreacting to missteps. She reveals that emotional outbursts, rudeness, rule-breaking, staying up late, and other worrisome teen behaviors are in fact normal and necessary steps in psychological growth and character development. With her signature wit and warmth, Mogel gives parents the tools to meet these behaviors with thoughtful care, offering reassuring advice on:

· why influence is more effective than control
· teenage narcissism
· living graciously with rudeness
· the surprising value of ordinary work
· why risk is essential preparation for the post–high school years
· when to step in and when to step back

The Blessing of a B Minus is an important and inspiring book that fortifies parents through the teenage years.
About the Author
---
Wendy Mogel, PhD, is a practicing clinical psychologist, international public speaker, and the author of Voice Lessons for Parents, the New York Times bestseller The Blessing of a Skinned Knee, and The Blessing of a B Minus. She is also the host of Nurture vs Nurture, a new podcast from Armchair Expert, and lives in Los Angeles. Please visit her website at WendyMogel.com.