Investing in Liquid Assets: Uncorking Profits in Today's Global Wine Market (Paperback)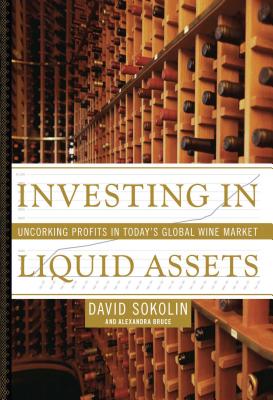 $19.99

Not in stock. Usually arrives in 2-5 Days
Description
---
Now more than ever, the value of Investment-Grade Wines (IGWs) and opportunities to invest in wine as an asset class are soaring. With a little research and a little risk, wine enthusiasts on every level will find it possible to gain big rewards in wine investment -- and there's never been a better time to try. IGWs have dependably outperformed blue chip stocks over the past 150 years, and the upscale wine market is still an area in which independent investors can profit handsomely.

A third-generation wine merchant, and CEO of one of the largest rare-wine companies in the world, David Sokolin knows how to turn fine wine into cold cash. And he knows how you can, too. In simple, practical terms, Investing in Liquid Assets provides all the information you need to understand the economic principles that govern the world of fine wine and take advantage of the resources currently available.

Using his insider's expertise, Sokolin defines Investment-Grade Wine and identifies the most financially important wine regions and styles. Defining the key players in the field, Sokolin shows you how to navigate the world of wine critics and understand the impact of their scores, and he explains why it's perfectly fine that your own personal tastes really don't matter. He offers tips on where to find reputable sources for fine wine, how to manage storage and resale, as well as all-important buying and selling strategies. In the second half of the book, he gives overviews of the world's greatest wine regions and offers his predictions about which regions and which wines are likely to represent the greatest investment opportunities in the near future.

Providing information and tactics previously known only to successful professionals, Investing in Liquid Assets turns your passion for fine wine into a valuable resource that will pay for itself.
About the Author
---
Dave Sokolin is a third-generation wine merchant and CEO of one of the largest, rare wine companies in the world– Sokolin, LLC was founded by his grandfather in 1934. Under Dave's watch, starting in 1996, Sokolin, LLC was moved from Manhattan to the Hamptons, where a state-of-the-art 20,000 square foot wine storage facility was built, with the technology to manage over one million bottles. The business has more than quadrupled in size over the past decade, transforming the family's small Madison Avenue liquor store into America's largest wine brokerage house.

Alexandra Bruce is the author of Beyond the Bleep: The Definitive Unauthorized Guide to 'What the #$*! Do We Know!?' about the high-grossing independent film of that title, exploring the quantum physics and neuroscience work of over a dozen contemporary scientists. Published by The Disinformation Company in 2005, it was ranked #35 on Amazon and ranked #1 in the Spirituality category for two weeks.
Praise For…
---
"I find Dave Sokolin's judgment about wine -- the taste of it, how it will develop, and where its price is headed -- to be of incredible value. Personally, I follow his suggestions not to make money on wine but to enjoy drinking the wines when the price gets to a level I wouldn't want to buy them at." -- Sandy Weill, Chairman Emeritus, Citigroup Inc.



Dave Sokolin provides highly readable insight into the fascinating world of fine and rare wine investing -- packed with investment ideas and entertaining anecdotes." -- Hamilton "Tony" James, President and Chief Operating Officer, The Blackstone Group