The Great Great Wall: Along the Borders of History from China to Mexico (Hardcover)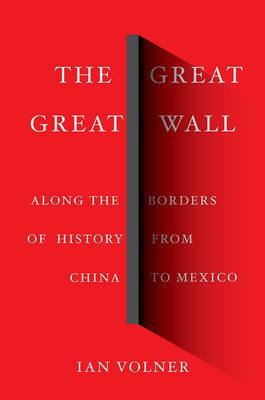 Description
---
During his campaign for the presidency, one of Donald Trump's signature promises was that he would build a "great great wall" on the border between the US and Mexico, and Mexico was going to pay for it. A year and a half into his term, with only a few prototype segments erected, the wall is the 2,000-mile, multibillion-dollar elephant in the room of contemporary American life.

In The Great Great Wall, architectural historian and critic Ian Volner takes a fascinating look at the barriers that we have built over millennia. Traveling far afield, to China, the Middle East, Europe, and along the U.S. Mexico border, Volner examines famous, contentious, and illuminating structures, and explores key questions: Why do we build walls? What do they reveal about human history? What happens after they go up? With special attention to Trump's wall and the walls that exist along the US border already, this is an absorbing, smart, and timely book on an incredibly contentious and newsworthy topic.
About the Author
---
Ian David Volner is an architectural historian and design critic. His previous books include Michael Graves: Design for Life and This Is Frank Lloyd Wright. He has traveled to far-flung places like the Caucasus Mountains, the townships of South Africa, and the slums of Panama City to write for the Wall Street Journal, the New Republic, Artforum, and more.
Praise For…
---
"One of the successes of [The Great Great Wall] is the way it steers clear from being a flash-in-the-pan title . . . To the chorus of opinions tackling the humanitarian, policy-related, political, economic, or environmental arguments about the proposed U.S.-Mexico wall, Volner's is a welcome voice. From his vantage point in architectural journalism, he is able to take a long view, incorporating those subjects and questioning just what such a wall would mean."
— Architectural Digest

"Ian Volner's timely and highly readable book on ancient and modern walls provides a valuable backdrop to Donald Trump's insistence on a barrier across America's southern border. Volner's book illustrates the difference between needed historical impediments to external dangers and Trump's unconvincing demand for a wall."
— Robert Dallek

"Ian Volner's The Great Great Wall is a work of literary alchemy that transmutes the wall, a simple architectural structure, and of late, political metaphor, into a prism through which to view the panorama of human history. From biblical Jericho to medieval European fortresses to America's poorly understood southern border, this book will amaze, delight, and enchant even the most jaded nonfiction aficionado."
— William J. Bernstein

"Using the U.S.-Mexico border as a starting point, Ian Volner goes on a global journey to some of history's most significant walls – China, Berlin, and even Jericho – weaving together a fascinating account of their foundational myths and current realities. Moving seamlessly between the past and present, this book provides much-needed context and insightful reflections on why societies build barriers, and their ultimate cost, at a time when wall-building has once again become a political priority."
— Carrie Gibson

"Volner undertakes a personal, global odyssey, crossing time and space to visit the walls that mankind has raised over millennia, starting with the ancient Israelites and the invention of difference. The underpinning of his research—why do we build walls and what do they reveal about us?—feels ever more prescient with each day."
— Cultured Magazine