The Everything Guide to Understanding Socialism: The political, social, and economic concepts behind this complex theory (Everything®) (Paperback)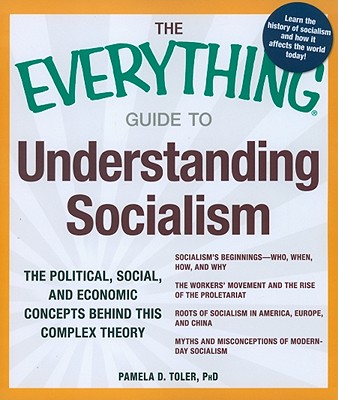 $15.95
Email or call for price
Description
---
"Democracy is the road to socialism." --Karl Marx
Socialism was one of the formative forces of the modern world, and its complex history stretches back nearly three centuries. But what, exactly, does socialism mean? This informative and impartial guide takes you through socialism's origins to its contemporary interpretations, covering:
Socialism's founders, including Sir Thomas More, Karl Marx, and Friedrich Engels
Types of socialism, such as Maoism, syndicalism, communism, and green socialism
Basic constructs and beliefs, and current misconceptions
Socialism's impact on America, including the Red Scare, the Catholic Worker Movement, and the Cold War
Featuring an unbiased but comprehensive view of this controversial theory,
The Everything Guide to Understanding Socialism
is the ultimate resource if you want to learn more about an age-old concept turned modern-day political firestorm.
About the Author
---
Pamela D. Toler holds a PhD in history from the University of Chicago. She taught courses on history and social and political thought in the University of Chicago's Complete Gargoyle program. Pamela contributed more than sixty history-related essays to Publications International's Daily Dose of History and Daily Dose of Knowledge, including pieces on Adam Smith, John Stuart Mill, the gold standard, the Communist Manifesto, utilitarianism, and Nehru's socialism. Her work is regularly published in nationally distributed magazines specializing in history and culture, including American History, History, and Calliope, a world history magazine for children. She is the author of The Causes of the War of 1812 for OTTN's highly regarded Road to War series. Pamela is a member of the World History Association.