Edible Cocktails: From Garden to Glass - Seasonal Cocktails with a Fresh Twist (Paperback)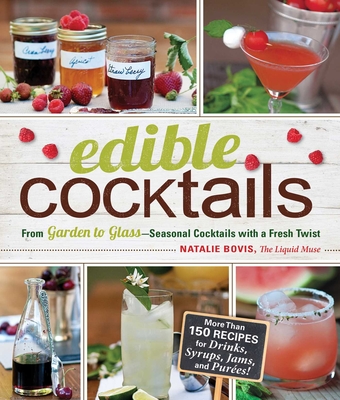 Email or call for price
Special Order. May not be available. Call the store for details.
Description
---
Cocktails good enough to eat!
Your favorite food is fresh, local, and homemade—and now your cocktails can be, too!
Whether you're plucking fresh mint from your own garden or buying buckets of juicy blackberries from the farmers' market, taking these inspiring ingredients from garden to glass is what
Edible Cocktails
is all about. And mixing unique, delicious drinks like a Lavender Gin Sour or a Basil Grass Lemon Drop is easier than you think. Just try the following:
Plant your own "cocktail garden"
Utilize seasonal, fresh farmers' market finds or pluck tasty treasures in the wild
Infuse spirits and make homemade liqueurs
Create homemade syrups, purees, and jams
Use eggs, dairy, and even meat in your cocktail for modern mixology explorations
With full-color photographs and more than 100 cocktail recipes, you'll be infusing your life—and your cocktails!&151;with wholesome and homegrown ingredients in no time.
About the Author
---
Natalie Bovis, The Liquid Muse, is a recognized beverage consultant, mixologist, and author of Preggatinis and The Bubbly Bride. She is the spokesperson for Fre(R) Alcohol-Removed Wine and is the co-creator of a line of pre-bottled organic cocktails called O.M., set to hit high-end supermarket shelves in 2011. Visit her website www.theliquidmuse.com.
Praise For…
---
"Cheers for teaching how to plant a 'cocktail garden' from 'seedling to first sip' and use fresh farmers' market ingredients." --USA Today

"Bovis' guide contains over 150 recipes...sure to impress any guest. Sure there are millions of cookbooks and cocktail recipes out there, but Bovis' book is a new twist. Her eco-conscious and organic focus helps the aspiring bartender within us to understand what is going into the cocktails we all love to indulge." --Drink Me magazine

"Natalie Bovis is known for making some of the most delectable drinks on the planet and the ones she's included herein are no exception. As more and more bartenders are looking to craft bespoke ingredients for their cocktails, this volume will prove a great launching point. Detailed instructions on how to make your own syrups, jams, jellies, shrubs, infusions, liqueurs, bitters, mixers and garnishes provide a wealth of invaluable information for anyone looking to make the leap beyond pre-bottled ingredients." --in the Mix Magazine

"I truly appreciate [the author's] 'tools of the trade' where she shows what is needed before you try to mix up all this amazing deliciousness. These recipes are definitely more creative than the other cocktail books out there." - Sew Craft Table