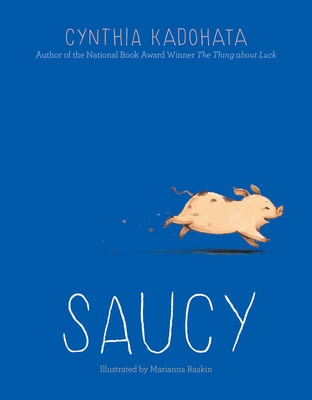 Description
---
From Newbery Medalist and National Book Award–winning author Cynthia Kadohata comes an irrepressible and heartwarming story about a girl and her ever-growing pig, Saucy—perfect for fans of The One and Only Ivan and Flora & Ulysses!

Being a quadruplet can make it hard to stand out from the crowd. Becca's three brothers all have something that makes them...them. Jake has his music and dancing, Jammer plays hockey, and K.C. thinks they're all living in a simulation and doesn't see the point of doing much of anything. Becca is the only one with nothing to make her special.

But when she finds a tiny, sick piglet on the side of the road, Becca knows this is it. This is her thing. She names the piglet Saucy and between her own pleading and Saucy's sweet, pink face, Becca convinces her family to take her in. Soon, Saucy is as big a part of the family as anyone else—and getting bigger. With each pound Saucy gains, the more capable she becomes of destroying the house and landing Becca in trouble.

Some tough decisions need to be made about Becca's pet, and her search for solutions brings to light exactly where Saucy came from. Turns out, there are a lot more scared piglets out there, and saving them may take Becca and her brothers finally doing something together.
About the Author
---
Cynthia Kadohata is the author of the Newbery Medal–winning book Kira-Kira, the National Book Award winner The Thing About Luck, the Jane Addams Peace Award and PEN America Award winner Weedflower, Cracker!, Outside Beauty, A Million Shades of Gray, Half a World Away, Checked, A Place to Belong, and several critically acclaimed adult novels, including The Floating World. She lives with her dog and hockey-playing son in California. Visit her online at CynthiaKadohata.com.
Praise For…
---
"A lively, heartwarming family story."
— Kirkus, starred review

*"Readers will love the zany antics brought on by raising a pig, but what makes this a must-read is Becca and her family, with all their love, flaws, and ­compassion."
— School Library Journal, starred review

"Fresh and funny... [B]eautifully encapsulate lessons in friendship, love, and the joy of family."
— Booklist