The Ice Chips and the Magical Rink: Ice Chips Series (Paperback)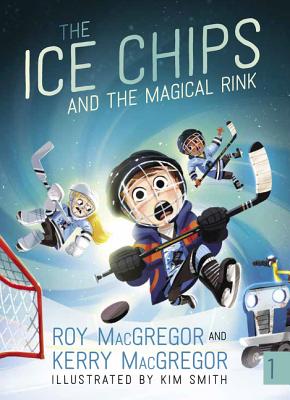 Description
---
If you could travel through time, who would you want to meet?
Lucas Finnigan eats, sleeps and breathes hockey. With his friends Edge, Swift and Crunch, Lucas plays on his hometown's rink, dreaming of the day when he knows he'll make the NHL. But lately money has been tight at home, and, after a major growth spurt, Lucas is forced to wear hand-me-down gear that doesn't quite fit right. Now he's not sure he'll ever make it to the Hall of Fame like his hockey heroes.
And that's not the only problem. With the community arena's chiller on the fritz, and replacement parts too tough to come by, it looks like Lucas and his friends may be doomed to a season on a plastic rink—or worse, no hockey at all!
But with a magical discovery, and some help from one of hockey's greatest players (who was a kid once, too!), their final skate might turn into their first great adventure . . .
About the Author
---
ROY MACGREGOR, the media inductee into the Hockey Hall of Fame in 2012, has been described by the Washington Post as "the closest thing there is to a poet laureate of Canadian hockey." He is the author of the internationally successful Screech Owls hockey mystery series for young readers, which has sold more than two million copies and is published in French, Chinese, Swedish, Finnish, and Czech. The most successful hockey series in history—second only to Anne of Green Gables as a book series for young readers—it was a live-action hit on YTV. MacGregor has twice won the ACTRA Award for best television screenwriting.
KIM SMITH is the New York Times–bestselling illustrator of several picture books, including Builder Brothers: Big Plans and the Ice Chips chapter-book series. She lives in Calgary.
KERRY MACGREGOR is co-author of the latest work in the Screech Owls series. She has worked in news and current affairs at the CBC, and as a journalist with the Toronto Star, the Ottawa Citizen, and many other publications. Her columns on parenting, written with a unique, modern perspective on today's issues and interests, have appeared in such publications as Parenting Times Magazine.
Praise For…
---
"Moments of insight and empathy don't jar or weigh down the story, but are deftly woven into the hometown hockey narrative. . . . It's not surprising how well-crafted the book is given the pedigree of its authors." — Quill & Quire
"A fun tale of friendship, co-operation and cultural diversity." — Ottawa Citizen
"A good choice for readers of all abilities who enjoy hockey mysteries. Recommended." — CM Magazine
"An entertaining adventure that will appeal to young readers. . . .  What's not to like?" — Metroland Media
"A charming novel for younger kids who know what it means to get out there and play." — Mabel's Fables Bookstore
"Good frozen fun!" — Kevin Sylvester, illustrator of Great and author of the Neil Flambé Capers
"Magic and hockey and history! What a combination for young readers. The lively and diverse characters and super fun plot are combined with a famous real-life hockey player. So creative. What a magical read!" — Lorna Schultz Nicholson, author of the Puckster picture-book series
"A funny, heartwarming story about friendship, hockey, and the magic that can happen when you believe in yourself. You don't have to be a hockey fan to enjoy this book, but after reading it you just might be!" — Cyndi Marko, author and illustrator of the Kung Pow Chicken series